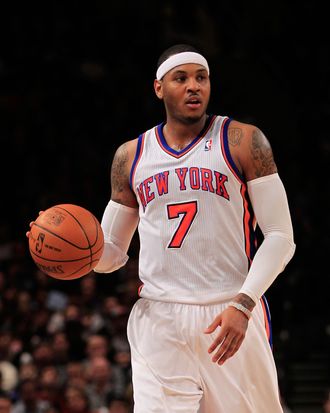 Carmelo Anthony's sprained ankle will get a lot of use this weekend.
In this locked-out season, every team's got at least one, and the Knicks get theirs out of the way early. New York will play three games in three nights with plane trips in between. The stretch starts tonight against the Bulls, then takes them to Boston on Friday night and back to the Garden to face the Nets on Saturday. The "back-to-back-to-back" (a metaphorical phrase that's hard to picture) is the Knicks' only one of the season, but it comes at what feels like a crucial juncture (Tyson Chandler agrees). New York is coming off an invigorating win over the Pistons, but they've failed to sustain momentum after wins over meek opponents before. A winning record over this condensed three-night run could do a lot for morale, fan support, the temperature of Mike D'Antoni's seat, and, of course, the standings. It wouldn't be that unusual, either.
Jake Appleman examined the effect of the three-in-three-nights experience and found that it hasn't really hampered teams much, at least not yet. Teams are 9–7 thus far in that third game and only one team (those miserable Pistons) has dropped all three contests. It's still pretty early in the season and those worn-down legs might not be as springy by the third consecutive game in late March (though, again, the Knicks won't have to do that).
The major concern for Mike D'Antoni and the Knicks heading into this stretch is the health of his two top scorers. Carmelo Anthony has played just one game since returning from ankle and wrist injuries, and one worries that one of those parts might start acting up without a night to rest. Amar'e Stoudemire, meanwhile, turned his ankle at halftime (yes, at halftime) of the Pistons win and had to miss a practice earlier this week. Like Melo, he's been deemed healthy and ready to go, but you never know how a sore ankle will respond to starter's minutes on three consecutive days (the Knicks also played on Tuesday and have a game next Monday, so it's five games in seven nights, as well).
Anyway, it all begins tonight with a nationally televised game against the Eastern Conference–leading Bulls. Those Bulls are managing their energy stores just like everyone else, and Tom Thibodeau opted to bench Derrick Rose and company instead of attempting a fourth quarter comeback in last night's loss to the Sixers. So, the Bulls will be ready to battle and wear the Knicks down with stout defense, Rose's rim-ward forays, and a feisty effort on the offensive glass from the front line. Should the game get out of hand one way or the other (I'll admit that it's more likely one way than the other), it'll be very interesting to see how — if at all — Coach D'Antoni hedges his rotation to prepare for the forthcoming games.
We've a big a weekend ahead of us!