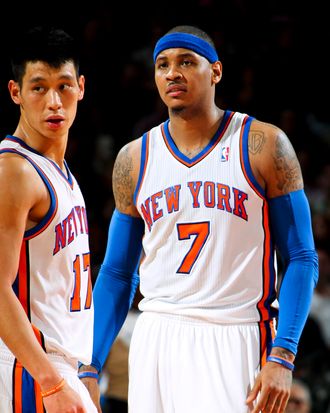 The man of 2011 and the man of 2012, finally united.
Coach Mike D'Antoni's rotation is an ever-evolving machine with parts that grow, shrink, disappear, and switch roles constantly. As part of our Knicks coverage all season, we'll be tracking each player every Tuesday. Come join us for the Knicks Power Rankings!
1. Jeremy Lin. (Last week: 1) It was an odd week for the Knicks — one that, save for a carefree blowout of the Kings, seemed a bit backwards. New York emerged victorious in a road comeback against the Raptors and a nationally televised match-up with the streaking Mavericks, but got battered on their own home court by the Hornets and Nets. In what can only be an affirmation of his newly preeminent Power, Lin served as the Knicks' bellwether this past week. In the wins, he was heroic — sinking a ballsy game-winner in Toronto, setting a career-high in assists against the Kings, and torching a Dallas defense specifically designed to contain him (while breaking that career-high in assists). In the losses, Lin was a bit out of control. He turned the ball over nine times against the Hornets and took a number of questionable shots against the Nets (getting burned by Greivis Vasquez in the former and absolutely incinerated by Deron Williams in the latter). As Jeremy Lin — undrafted, Harvard-educated, waiver wire point guard — goes, so go the Knicks. Three weeks in, it's still going pretty well, and even with Amar'e Stoudemire and Carmelo Anthony back in the lineup, it looks likely to stay that way. Let us not take for granted how completely upside-down that is.
2. Tyson Chandler. (Last week: 2) We've spent the last few weeks lavishing Chandler with praise — praise that certainly extends into this past week's performance — so let us air a relatively minor grievance with the understanding that Chandler is almost uniformly excellent, and has very few faults. Cool? Okay.
You've got to work on that temper, Tyson. When a man of your size and strength shoves a pesky defender, elbows someone out of the way to chase a rebound, or, uh, follows Kris Humphries into the New Jersey huddle, the referees take notice. Your defensive presence is instrumental to this team's success, so when you commit petty infractions — not shot-stopping big man fouls, but these little physical outbursts — it limits your availability and really hurts the team. Those retaliative measures (we'll call them "mantrums") are minor but get magnified by your inherent force and will inevitably lead to personal and technical fouls. If you can stay aggressive while curbing your impulse to squabble, it'd do the Knicks a world of good. Woosah.
3. Carmelo Anthony. (Last week: Injured) Today is the one-year anniversary of Melo's trade to the Knicks. Tomorrow will mark a full year since Melo sank several big shots against the Bucks in his epic, delirious Knick debut. Today, we're some hours removed from warily welcoming Melo back from one of several injuries he's suffered this season, still a bit worried that his presence will deflate the burgeoning success generated by — again — an undrafted, Harvard-educated, waiver wire point guard. Pretty much exactly what we all expected back on 2/21/2011.
Anyway, despite the loss, Melo's reintroduction to the lineup wasn't nearly as discouraging as some expected. He missed easy shots — we'll blame rust and lingering soreness — but, more importantly, he took easy shots and not much else. The offense as a whole looked pretty funky and unsure of exactly where to stand to avoid crowding, but Melo himself was generous and deferential, resisting the temptation to compound his rustiness by going solo. He took just 11 shots, tossed six assists (some of which were positively dazzling), and avoided derision from the Garden crowd (at least of the kind that can be heard over the television). It might sound silly, but if Melo's main issues at present are blowing layups and dribbling off his toes (six turnovers), then this is going to work very well in the long run. It's going to take the long run, though, and we're already halfway through a short season. Good thing Knicks fans are so famously patient!
4. Landry Fields. (Last week: 4) Fields posted a couple stinkers against the Raptors and Hornets, but did a number of the things that made us swoon over him last season. Landry was an elite rebounder for a guard in his rookie year, and brought back some of that magic with his first two double-digit boarding performances of this season. He also did a terrific job of guarding Tyreke Evans (Fields seems much better equipped to face ball-dominant guards as opposed to screen-runners), nabbed four steals from the Mavericks, and further cemented himself as a viable secondary option as a pick-and-roll ball-handler. That is the Landriness we came to cherish and missed so dearly at the end of last season and beginning of this one.
5. Amar'e Stoudemire. (Last week: Absent) Amar'e looked feeble this past week, much like he did in the first few weeks of the season. It's difficult at this point to parse the reasons for his haplessness. The immense grief following his brother's death must be weighing on him, but it's impossible to know how and how much. And while one can point to the lingering back issues and general futility that plagued him before his personal tragedy, one must also recall that Amar'e was starting to roll right before he had to leave the team (he was ranked as high as No. 2 in this space, if you value you this column as a meaningful metric for some reason). Whatever the case may be, Amar'e's struggling as usual on defense, and displaying uncharacteristic (at least until this year) impotence with the ball in his hands. To see Amar'e catch a pass right below the rim and do anything other than pierce the floor with a tomahawk dunk is baffling, but that's been the routine lately. His drives are getting cut off, his shots are getting blocked, and even his successful finishes seem fragile. What exactly has gotten into Amar'e is anyone's guess. We can only hope that it's fleeting.
6. Iman Shumpert. (Last week: 3) Shump had the usual struggles this past week, but did have that one massively important steal and cost-to-coast finish in Toronto. We also learned that he's been suffering from knee tendinitis (not in the same knee he injured previously) for quite a while. It wasn't bad enough to keep him off the court when the Knicks were desperate for point guard help, but as soon as Baron Davis got healthy, Shump was allowed to sit and rest. It's unclear right now how long the knee thing will keep him sidelined (and whether or not it'll hold him out of the Dunk Contest), but it does serve to explain some of the botched take-offs he's had on attempts at the rim.
7. J.R. Smith. (Last week: In China) Welcome to New York, J.R.! Can I call you Earl? Great! Well, Earl, I see you've made yourself comfortable. You pulled 24 shots in your first two games as a Knick and, to be honest, I can't blame you. New York doesn't have much else in the way of bench scoring, so feel free to fire away. The vigorous defense, rebounding, and useful ball-handling we've seen can stick around, too, if you don't mind. Oh, and the hair … well, you're an adult and style yourself as you please, but your head looks like it has a furry front porch. Just saying.
8. Jared Jeffries. (Last week: 5) Aside from a ten-point performance in the win over the Kings, Jared's recent run of inexplicable offensive competence came to an end this past week. It's no big deal, since he's not starting anymore and hasn't stopped poking folks and drawing charges and stuff.
9. Baron Davis. (Last week: Injured) For a guy who hardly registered any statistics, Baron packed quite a bit of fun into his ten-minute debut against the Nets. His first shot as a Knick was a a fall-away twenty-footer that clanked off the rim while the rest of the Knicks spectated. As he got more comfortable, Baron started penetrating and, at the end of the first quarter, inexplicably whipped the ball around his waist (had Baron not looked relatively slim, there would be some good solar system jokes here) and into the corner where an open Steve Novak drained a three that left his hands … just after the buzzer. Oh, and Baron's first make as a Knick was a deep, deep three-pointer that he celebrated by taking a hit from an imaginary spliff. The Knick bench is suddenly quite a bit of fun and, on a more serious note, a healthy Davis could take a lot of weight off Lin's back and help organize the struggling second unit.
10. Steve Novak. (Last week: 6) Well, on Sunday, Steve did have one of the best four-and-a-half-minute stretches anybody has every had: fifteen points on four three-pointers, the last of which resulted in an Aaron Rodgers-esque belt celebration. That jaw-dropping individual run generated more than enough momentum for the Knicks to hold on and upset the Mavs. But other than that, Novak was uncharacteristically inaccurate from downtown, which is a bit of an issue for a guy who brings little else to the court. J.R. Smith is also a shooter and considerably more versatile, and the same goes, to some extent, for the soon-to-return Josh Harrellson. Novak will need to be less streaky to stay in the rotation.
11. Bill Walker. (Last week: 7) Walker was terrific against Sacramento, but otherwise continued to produce mediocre efforts as Melo's injury replacement. By the end of the week, Bill had succumbed to an elbow injury, and it's hard to imagine him getting regular minutes on a bench suddenly flush with talent.
12. Mike Bibby. (Last week: 8) Well, we learned that Mike's a germaphobe, which is interesting, though not as interesting as a "germaphone", which is what I originally typed.
13. Toney Douglas. (Last week: 9) Toney, somehow, is a real-life benchwarmer now. He appears to sit below Bibby in the rotation, which is incredible given the promise he'd shown in years prior. I'm sure he'll be a rotation player at some point in the future, but it doesn't look like it'll be soon.
14. Jerome Jordan. (Last week: 10) Now that Renaldo Balkman's gone (miss you, Humpty), Jerome is pretty much the Knicks' remaining human victory cigar/defeat blanket. If you see Jerome loping around the floor, arms swinging freely, it means New York has either won handily or been dismantled beyond repair.
Injured: Josh Harrellson, and that's it!