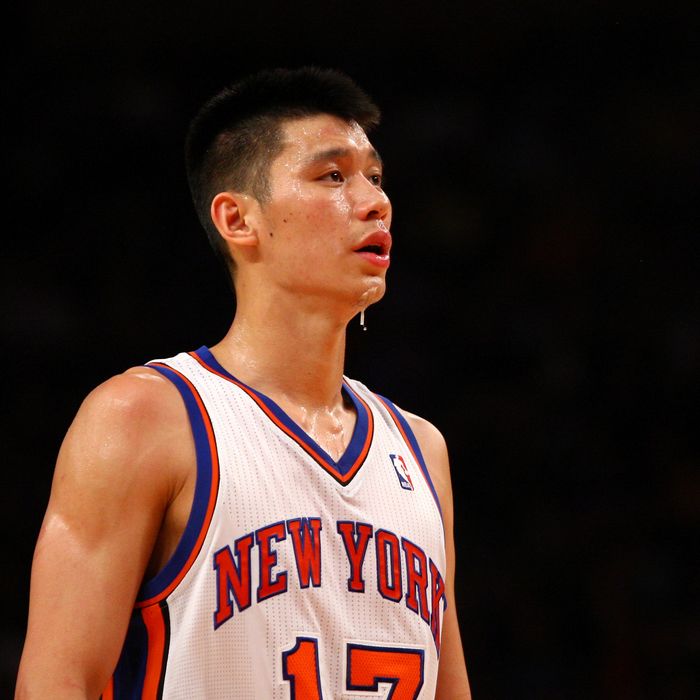 Coach Mike D'Antoni's rotation is an ever-evolving machine with parts that grow, shrink, disappear, and switch roles constantly. As part of our Knicks coverage all season, we'll be tracking each player every Tuesday. Come join us for the Knicks Power Rankings!
1. Jeremy Lin. (Last week: 4) Looking back, it's pretty silly that I busted out the "Linsanity!" headline for last week's rankings. At the time, Jeremy Lin's breakout was just two games old, and the rest of the world was juuust starting to begrudgingly focus its attention on the Knicks. One week and three games later, Lin is the defending Eastern Conference Player of the Week, he's on the cover of Sports Illustrated, and roughly one thousand billion words have been written about him and every single fragment of his personal history. So, uh, suffice to say we had no idea quite how Linsane things were going to get when we declared Linsanity a week ago. Lin's actual performance on the court has been buried a bit by all the hoopla, but the Knicks and their fans certainly haven't forgotten that that's why we're here. Lin's coming off a week in which he serially embarrassed John Wall and the Wizards, exploded for 38 points from every range in a nationally televised victory over the Lakers, and didn't show any signs of slowing until the second half of New York's ugly win in Minnesota. In a way, Saturday's second half struggles were reassuring. The kid had been so uniformly spectacular — passing sharply, scoring in pretty much any context, defending like a seasoned pro — that we needed a stretch of tired, sloppy play to temper our skyrocketing enthusiasm for Lin and, like, remind us of our own mortality. Knick fans were getting close to quitting their jobs and following Lin around the country Deadhead-style. Shit, I'm still considering it. Anyway, Lin easily gets the top Power Ranking this week after having one of the best and most famous weeks that any Knick has had ever.
2. Tyson Chandler. (Last week: 1) Of course, the best part about Lin's brilliant play is that it drips down to every other Knick that joins him on the court. Lin's ability to identify and engage the open man first reinvigorated Chandler as an offensive weapon, then made him a key target for opposing defenses. After he dropped a season-high 25 points in Washington, the Lakers and Timberwolves made it their game plan to bring help and clog the paint to stifle Chandler's rolls and lob finishes. That's a sound strategy, but it'll be much tougher to pull off as Amar'e Stoudemire and Carmelo Anthony work their way back into the fold. On the other end, Chandler revealed some rare defensive weaknesses when trying to guard the fleeter Trevor Booker and the brutish Nikola Pekovic, but made up for that with an inspired performance in his most important match-up against the Lakers. Chandler was a wall in that game, bullying Andrew Bynum into uncomfortable spots, unwieldy shot attempts, and just three points on 1-8 shooting.
3. Iman Shumpert. (Last week: 7) I suspected last week that Shumpert would get more comfortable in his new role off the ball, and that certainly appeared to be the case over the last three games. There were some very rookie stretches of poor shots and bad fouls, but Shump was, for the most part, as effective on both ends of the floor as he's ever been. Iman's defense has never really wavered; he's incredibly physical — occasionally to a fault — and can neutralize mismatches with absurdly quick, accurate hand swipes. (Seriously, I can't tell you how many times I've fretted at the sight of Shumpert switched into the post, only to watch him snatch the ball right out of a big man's hands). The fact that Shumpert has such impressive hand-eye coordination on defense makes his inability to convert routine lay-ups especially uncanny; though, to Shump's credit, he finished a number of vitally important plays at the ends of both the L.A. and Minnesota games. All told, it was a week with three double-digit scoring performances on 50 percent shooting, much of it in tight fourth-quarter situations. That's the kind of production the Knicks are looking for from a guy who's shaping up to be their utility sixth man.
4. Landry Fields. (Last week: 6) Fields's offensive approach alongside Lin has been similar to Shumpert's — lots of diagonal drives, mid-range jumpers, and scores in transition. He's looked sharp as ever, calling his own number when necessary and otherwise contributing to the team-wide ball movement. If ever there was any question, Fields cemented his status this week as Lin's closest pal on the team. The new backcourt mates already have a budding friendship replete with a ridiculous handshake, not to mention some undeniable ESP on the court. And of course, it was Landry's comfortable-looking couch on which Lin slept before his breakout game against the Nets. Best buds!
5. Jared Jeffries. (Last week: 5) We're more than ready to get Amar'e Stoudemire back so that he can be the one to finish Lin's pick-and-roll feeds, but Jared has been remarkably innocuous as Stoudemire's gawky offensive understudy. He's scored and drawn fouls off lobs, and even managed to finish a couple stumbling drives into the paint (alas, Jared's streak of taking and missing one three-pointer a night ended on Saturday, when he attempted zero and thus received zero groans from his audience). Jared's primary services is his defense, of course, and he was as wonderfully pesky as ever this week, particularly in help situations against the Lakers.
6. Steve Novak. (Last week: 9) Eh! Steve! Novak is just a shade over one-dimensional (he's proven to be a decent rebounder, which somewhat compensates for his feckless defense), but that one dimension has really suited the short-handed Knicks. He's contributed crucial three-pointers to each of the Knick wins, none bigger than his game-tying crunch time three in Minnesota (that video is worth a look just for the narration). At least until Josh Harrellson returns, I'd bet on Novak continuing to get minutes off the bench. His dead-eye presence changes everything for the second unit that's struggled to score throughout the season. Also, he looks exactly like this guy I know.
7. Bill Walker. (Last week: 8) Walker's been pretty consistently shoddy as the starting small forward. His outside shot hasn't been dropping, and his drives to the basket tend to culminate in either a turnover or a half-assed bank floater ten feet from the rim. If Novak stays sharp, Walker may drop out of the rotation entirely.
8. Mike Bibby. (Last week: 13) Bibby replaced Toney Douglas as the first point guard off the bench, but didn't hit shots or do much point guarding at all. At least he took care of the rock (just one turnover in 42 minutes over three games).
9. Toney Douglas. (Last week: 10) Nothin'. Toney played not a single minute this week after going the whole season without a DNP. The word on the web is that Toney's got some personal stuff going on behind the scenes that might explain his descent. Hopefully it's nothing too grave, both for Toney's sake and for the sake of a team that could always use another reliable guard.
10. Jerome Jordan. (Last week: 11) Jordan maintains his edge over Renaldo Balkman because he got 1:44 of glorious playing time on Wednesday against the Wizards.
11. Renaldo Balkman. (Last week: 12) Happy V-Day to you, too, Renaldo. ♥ ♥ ♥
Injured (and listed in order of anticipated return): Carmelo Anthony, Josh Harrellson ……………. Baron Davis
Absent due to the death of his brother but back this week: Amar'e Stoudemire