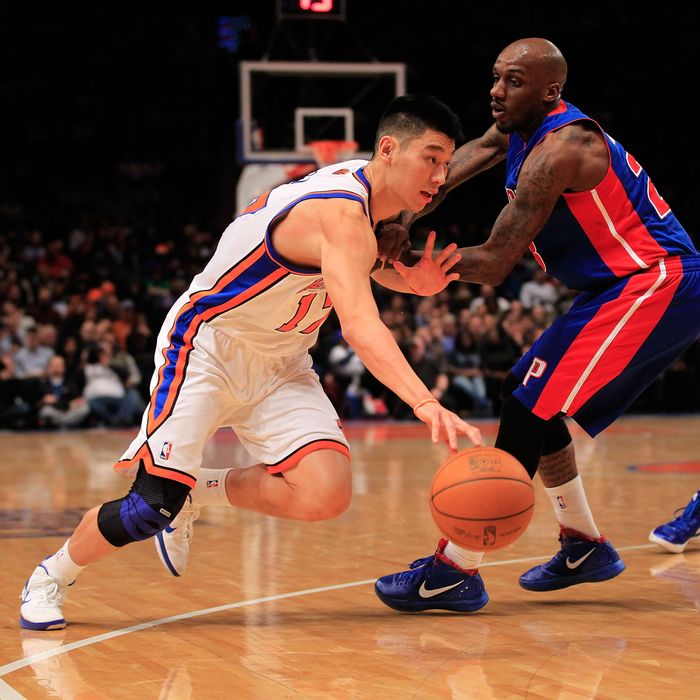 Coach Mike D'Antoni's rotation is an ever-evolving machine with parts that grow, shrink, disappear, and switch roles constantly. As part of our Knicks coverage all season, we'll be tracking each player every Tuesday. Come join us for the Knicks Power Rankings!
1. Tyson Chandler. (Last week: 1) Chandler was the team's rock during that grueling three-night stretch, logging 35 or more minutes in all three games, and producing all the while. Seriously, when the guy chased down a loose ball, laid out to recover it, and sprung from the floor to get it back and convert a dunk on Saturday, he was doing that on what must have been his hundredth-odd minute in three nights. The man does not tire. Meanwhile, aside from the usual defensive dominance, rebounding, and finishing (Chandler must be THRILLED to play alongside Jeremy Lin), we saw fleeting moments of intrepid offense from Chandler. He explored his back-to-the-basket game (which was unsightly to the point that it should have been censored for TV audiences) and even tiptoed outside the paint for a couple of short-range jumpers (one of which he hit). Chandler's affinity for the shallow water will only be enabled if Lin continues to thrive, but if he could get comfortable with even the closest of close jumpers, that would single-handedly open all sorts of new options for D'Antoni's offense. It's probably wishful thinking. Either way, Chandler is great and continued to be great this past week, occasional foul trouble notwithstanding.
2. Amar'e Stoudemire. (Last week: 2) Before he left town to mourn the tragic death of his older brother, Amar'e played himself a very nice week of basketball, even in losses. Stoudemire finally hit over half of his shots, thriving most excellently in his matchup with the defensively inept Carlos Boozer (Exhibit A). Had Amar'e drained that game-tying three at the end of regulation, it would have been a near-perfect outing. Either way, Amar'e stayed healthy, active, and efficient throughout a week that included a back-to-back-to-back, and with Lin now in the fold to feed him passes, the big gentleman can be expected to continue his return to form once he's back with the team. In the meantime, may his time with his family be peaceful and recuperative, and may Hazell Stoudemire Jr. rest in peace.
3. Carmelo Anthony. (Last week: Mostly injured) The strained right groin Melo suffered in Monday's win over the Jazz will shelve him for at least the next week or two, and even before this new injury, he was already starting to regress somewhat. Anthony made his return from ankle and wrist injuries last Tuesday night against the Pistons and looked his very best (granted, the Pistons tend to have that effect on people). With each "back" of the back-to-back-to-back, though, his injuries appeared to be acting up and his shooting form unraveled noticeably. By Saturday, Anthony was mostly resigned to deferring and creating for his teammates. The time off should do a body good, and Melo may even do himself a favor by sitting out the All-Star Game at the end of the month. We'll see.
4. Jeremy Lin. (Last week: 10) So, uh, that escalated quickly. Hell, if Lin had played big minutes for the whole week, he'd probably be No. 1. Even with just two games and change to show his stuff and post some preposterous numbers, Lin's power is undeniable. We've been grumbling all season long about how much better the Knicks' offense would operate with a natural point guard handling the ball, and Lin is exactly that. He has weaknesses — his range seems limited and his dribble isn't airtight — but the strengths Lin demonstrated in the wins over New Jersey in Utah are precisely the ones Mike D'Antoni needed in his lineup. The pick-and-roll is a conceptually simple play, but actually running it with success takes extraordinary intuition — intuition that Lin appears to possess. He's got a knack for angles — finding them, assessing them, inventing them, and employing them — that allows him to hit the rolling big man or beat his own path to the rim even though every defender knows what's happening. It's that set of instincts that makes it seem like the Knicks have really found something. Now, folks will rightly (but perhaps too eagerly) inform you that Lin will face much better defenses (and make no mistake: the Nets and Jazz play pretty bad defense) and opponents with increasingly thorough scouting reports on his tendencies going forward. And indeed, he's going to struggle at some point. But with that feel for the pick-and-roll, a respectable set of secondary skills (surprisingly effective defense, surprisingly accurate mid-range shooting), and the opportunity to improve and get comfortable, there's reason to believe that Lin's a keeper. Probably not the superstar that he appeared to be this week, but a keeper nonetheless. If nothing else, he's got Knicks fans feeling cheery and hopeful again, if only momentarily. That alone is cause for celebration. I would not be writing this column in good spirits if it weren't for Lin.
5. Jared Jeffries. (Last week: 4) Jeffries gets the slight edge over Landry Fields because he was absolutely instrumental in the Knicks' two wins over the Nets and Jazz — like, every bit as important as Lin. Jeffries has always been useful as a defensive gadfly, but he took it to another level in those games. He deflected an absurd number of passes and dribbles (shit, he probably recorded as many "touches" on defense as some some opposing offensive players did) and denied all manner of drives to the basket by sliding in and drawing charges. Those little plays are so crucial to seizing and preserving momentum, and Jeffries is good for a half-dozen of them each night when he's on his game. Oh, and despite his chronic habit of rimming out layups, Jared did a nice job of finishing feeds from Lin, even if it meant relying on drawn fouls to get his points. I don't think anybody's booing Jeffries at this point, but if you still are, Mike D'Antoni would like a word with you.
6. Landry Fields. (Last week: 3) Again, Fields drops a couple spots from last week only because other guys returned or played out of their minds. Landry's best games came earlier in the week, like when he notched 18 points and 5 steals on Tuesday in Detroit or when he had a hot shooting first quarter on Thursday against the Bulls. Defensively, Fields improved from game to game against a succession of sniper two-guards, from Kyle Korver to Ray Allen to Anthony Morrow in three consecutive nights. He helped hold Morrow to just 4-12 shooting and 11 points one night after he'd dropped eight threes on the Timberwolves.
7. Iman Shumpert. (Last week: 6) Shump lost his starting point guard spot by the end of the week, but it may have come as a relief. He's now free to dart around the court on offense, and his scoring efficiency should improve with more chances to work off the ball and get himself open for easy looks and drawn contact (Inane prediction: At least one of Lin's alley-oops will be finished by Shumpert before next week's rankings). Playing a more natural position (D'Antoni even suggested that he'd play Shump at small forward with Anthony out) should get the rookie more comfortable on both ends of the floor and hide some of his weaknesses as he continues to develop. The Shump-as-starting-point-guard experiment wasn't an abject failure, but it didn't go nearly as well as everyone hoped and all parties involved are probably happy that it's over.
8. Bill Walker. (Last week: 7) Bill the Bully tends to ramp up his effort a bit when he knows he's getting meaningful minutes, and we saw that effect in his performance against the Jazz: smarter decisions with the ball, nobler defense, and commitment to making small, useful plays. With Melo sidelined, Walker should see starter's minutes for the next week or two, and if his shot's falling, he could be a major contributor.
9. Steve Novak. (Last week: 8, somehow. God, last week was terrible) Novak will also receive minutes with Anthony out, and he started off on the right foot when Melo went down on Monday. Steve drilled five of eight three-pointers (including one off the catch that was easily 28 feet from the basket) and faked his way to a couple long twos to finish with 19 points in just 17 minutes. He did absolutely nothing else of note, but that downtown shooting is just the ticket.
10. Toney Douglas. (Last week: 5) After briefly looking himself, Toney was back to playing pretty hapless minutes at both guard positions this past week. Here's hoping the addition of Lin and/or the baby goats I've been sacrificing do something to rekindle his game.
11. Jerome Jordan. (Last week: 11) Jordan got to see the floor in garbage time against the Pistons, then again in real minutes against the Jazz when Chandler got in foul trouble. He didn't do too much besides lope from place to place and swing his arms around a lot, but that alone was pretty entertaining.
12. Renaldo Balkman. (Last week: 12) After Balkman made all three of his attempts in the waning moments of the Detroit game, D'Antoni opted to let him spin for a couple of minutes against Chicago before promptly thinking better of it, then again versus the Nets, before promptly thinking better of it. On the other hand, Renaldo really enjoyed the Giants winning the Super Bowl, so that's nice.
13. Mike Bibby. (Last week: 9) Bibby is evidently out of the rotation, and might actually be in Bermuda sipping fruity drinks, boogie boarding, and chatting with clams at this very moment. No signs of him this past week.
Injured: Josh Harrellson and Baron Davis, the latter of whom's recovery "setback" was grosser than we first realized.