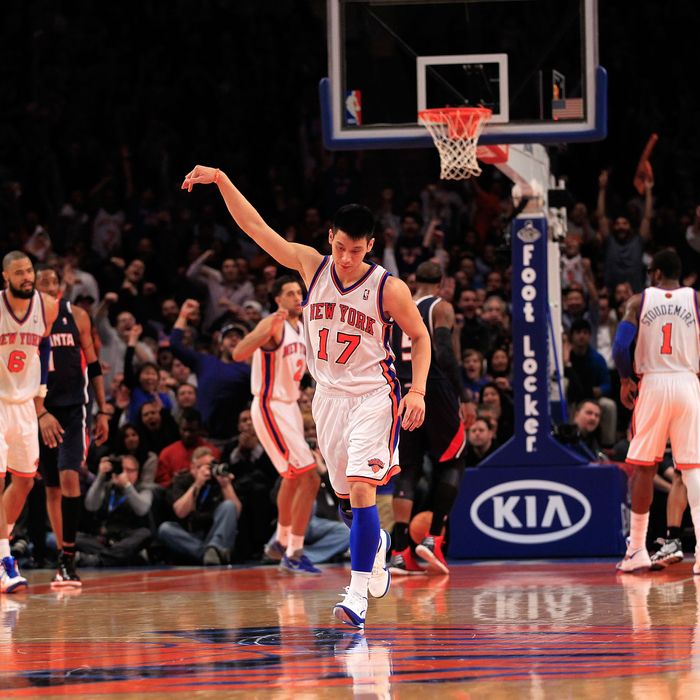 All these Knicks finally have some time to practice together.
Coach Mike D'Antoni's rotation is an ever-evolving machine with parts that grow, shrink, disappear, and switch roles constantly. As part of our Knicks coverage all season, we'll be tracking each player every Tuesday. Come join us for the Knicks Power Rankings!
1. Jeremy Lin. (Last week: 1) Well, we established the precarious "as Jeremy Lin goes, so go the Knicks" premise last week, and that seemed to hold in the Knicks' two games before the All-Star break. Lin picked apart a scraggly Atlanta defense to lead the Knicks to a blowout win, then was utterly handcuffed in Miami as New York bowed to the Heat. Thankfully, the Knicks have just one game between now and Sunday, with the rest of the days left to practice and get to know one another. A goal during that stretch must be to take some of the weight off Lin's shoulders — to get Lin, Amar'e Stoudemire, Carmelo Anthony, and anybody else who'd like to do some scoring on the same page so that Lin isn't totally stranded when teams attack him in the pick-and-roll. Good opponents have taken to focusing all of their attention on Lin, and the practice time ought to build contingencies by which other Knicks can punish them for that. Speaking of attention, one hopes that the extended absence from the court (combined with that loss in Miami) will encourage folks to move on to a new human interest story and allow Jeremy to play basketball undisturbed by badgering, rumors, and vivisection by basketball analysts. For the last few weeks, the Knicks' chances of winning each game and the gazes of everyone watching the Knicks have all fallen on Lin. Ideally, that will change going forward.
2. Carmelo Anthony. (Last week: 3) Melo has yet to regain his touch since returning from injury — he still hasn't cracked 50 percent shooting in a game, including his 7-15 All-Star outing — but he's getting his shots up. After a couple weeks of Lin attempting the most shots and being both the primary creator and primary finisher, Anthony finally relieved him of the scoring burden and led the team in attempts in both games, as he should. And even without practice, they weren't bad shots. Most of his attempts in each game came in the paint, which, despite a low success rate (3-9) at the rim against the terrifying Heat defense, is a good sign from a guy who had yet to log any practice time with his new point guard and hadn't quite found his jumper. But yeah, Melo will hopefully use this week to familiarize himself with Lin and refamiliarize his jumper with the bottom of the net.
3. Tyson Chandler. (Last week: 2) Chandler had a quiet week. His services weren't really needed against a small Atlanta front line and he was rendered pretty much useless by Miami's stifling defense. He did, however, manage to pick up another technical foul for complaining against the Heat, which puts him at second in the league with nine techs 35 games into his season. New York has 31 games remaining and a player receives a one-game suspension (and an even greater fine) on his thirteenth technical and an additional game for every two infractions after that. Basically, if Chandler doesn't lock it up, he's well on pace to find himself withheld from games and out quite a bit of money. As was said last week, we pick on Chandler's temper because the rest of his performance has been so uniformly superb. It'd be such a shame for him to miss important games because he can't stop roughhousing and sneering at refs.
4. Landry Fields. (Last week: 4) Landry played a terrific game against the Hawks, was quiet against the Heat, then scored 16 points off the bench for "Team Shaq" in Friday's "Rising Stars Challenge" and made a nuisance of himself at Jeremy Lin's press conferences. A fairly Landry week, as weeks go.
5. J.R. Smith. (Last week: 7) Smith isn't the starter and might not ever be, but he was quietly installed as a finisher in that loss to the Heat. He, not Fields, played the game's final minutes with the first unit. Considering Smith's ability to create his own shot and defend multiple positions (the latter of which has been a pleasant surprise thus far), that could be a regular thing going forward.
6. Amar'e Stoudemire. (Last week: 5) Amar'e couldn't get much going in either of the Knicks' games, but looked sharper on the few attempts he did muster — a couple jumpers dropped, some plays around the basket got finished, a ball got dunked. Defensively, Amar'e had a lot of trouble with the breaking Josh Smith at the beginning of the Atlanta game, but improved (along with the rest of the team) as the game progressed. Stoudemire still wasn't quite himself and wasn't as involved as you'd like him to be, but there were some modest signs of improvement if you looked very, very closely. Here's hoping a trip to the Caribbean did Amar'e some good.
7. Baron Davis. (Last week: 9) I feel a little dirty ranking a guy who is now 1-12 from the field as a Knick this high, but even without hitting shots, Davis demonstrated how important he can be to this team. Particularly with Smith as his running mate, Davis is capable of making some crazysexycool things happen on the court (Exhibits A and B), though perhaps at the risk of the occasional overambitious mishap. Still not far removed from a debilitating back injury, Davis seemed to find his sea legs a bit this past week. He repeatedly beat folks off the dribble and got into the paint, which is something that had been completely absent from New York's second unit for … ever. Even if he's not finishing those plays himself, penetration can create open opportunities for others. Others like …
8. Steve Novak. (Last week: 10) Novak broke out of his every-other-game pattern of shooting and posted consecutive nights of excellent outside shooting. He hit five of ten from deep against the Hawks (and broke out the Aaron Rodgers belt celebration again), then got loose in the second quarter (4-5 overall from downtown) against the Heat. Even with Josh Harrellson returning, Novak has probably shot well enough to stay in the rotation.
9. Jared Jeffries. (Last week: 8) Jared had a pretty normal, uninteresting week, so I'd just like to mention that late in the Atlanta game, Jeffries missed a dunk over Willie Green that, had it landed, would have qualified as a posterization and caused my entire body to burst into flames out of sheer ecstasy. Probably a good thing he blew it.
10. Mike Bibby. (Last week: 12) As long as Baron Davis is upright and mobile, Bibby will remain seated and immobile.
11. Toney Douglas. (Last week: 13) Sadly, this is probably the case for Toney as well, with or without Davis.
12. Jerome Jordan. (Last week: 14) At this point, I just wish Jerome would tweet more often so we could know what's going on with him while he's not playing and stuff.
Injured, but on their way back: Josh Harrellson, Iman Shumpert, Bill Walker