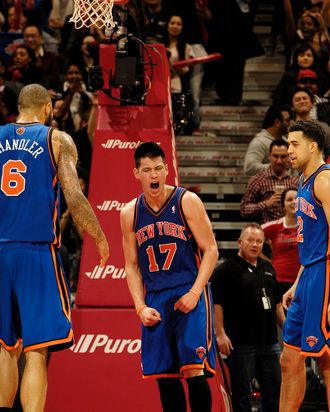 Before Jeremy Lin took over the point guard spot for the Knicks exactly eleven days ago — eleven days! — the Knicks were 8-15 and had lost eleven of their last thirteen games. Since then, they have won six in a row. At this point, hey, who's up for eleven?
Yeah, yeah, that seems incredibly silly. We're mentally Linstable. But if the Times' great Howard Beck is floating the notion, who are we not to follow along?
Next 5 for Knicks are @ home: Sac, NO, Dal, NJ, Atl. W/a little luck, they could be on 11-game streak heading to Miami on Feb.23
(That's a tweet, if you couldn't tell.)
But, you know, why not? Let's run with it. The Knicks have five home games in a row, and all five would seem more than a little winnable. Three of them seem like obvious wins — obvious being a silly word to toss out there for a team that very recently lost eleven of thirteen games — in Sacramento, New Orleans, and New Jersey. (Those three are a combined 23-62 on the season.) Then you have a nationally televised game Sunday afternoon against the defending champs — it's on ABC, which means Jeremy Lin is going to receive his largest audience yet — and then a game against the Atlanta Hawks a week from today, a team with the same record as the Mavs. Those teams are roughly the equivalent of the Lakers, in both games, the Knicks will come more armed.
Amar'e Stoudemire is already back — and should get a lusty cheer from the Garden faithful tonight — and many are speculating that Carmelo Anthony (originally slated to be out one to two weeks after his injury last Monday) could be back as soon as Friday. That would make a lot of sense, because if you're looking to have an easier game with which to ease Carmelo back into the lineup, the 5-23 Hornets might be just the ticket. That could set up a Knicks lineup of Lin/Fields/Carmelo/Amar'e/Chandler with Shump/Jeffries/Novak/Walker/maybe Douglas filling out the rotation. You know … that suddenly looks like a real, live, contending team. That looks like a team that can beat Dallas and Atlanta at home. That looks, wow, like a team that could end up winning eleven in a row.
It's hardly a problem, or even a surprise, if they drop one or two of these five home games, but they could probably use as many wins right now as they can, because come March, the schedule gets downright brutal. Here are the first six games of March:
Sunday, March 4: at Boston
Tuesday, March 6: at Dallas
Wednesday, March 7: at San Antonio
Friday, March 9: at Milwaukee
Sunday, March 11: Philadelphia
Monday, March 12: at Chicago
Ouch. If the Knicks get two wins out of those six, you have to feel fortunate. These five games coming up are all winnable. This could go from amazing to historic; eleven wins in a row would be the third-longest streak in team history and the best since the 1993–94 Knicks won fifteen in a row. Again: This is silly. This is way over-the-top. And this is totally in tune with the ridiculousness of what's going on with the Knicks right now. At this point, shit, why not?