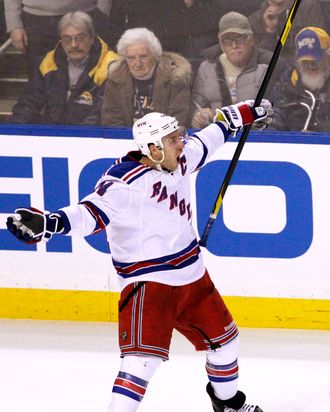 The fans in the front row are not happy.
A key moment in Tuesday night's Rangers shootout loss in Newark came with under five minutes remaining, when Ryan Callahan turned the puck over while shorthanded, leading to a Devils rush the other way and a game-tying goal. It was all very uncharacteristic: Ryan Callahan doesn't make many mistakes like that, and in more general terms, the Rangers' penalty kill has been one of its great strengths this year. Meanwhile, their power play somehow appears to be getting worse as the season goes on. And late in last night's game — a 1–0 Rangers shootout victory in which one goal would have made all the difference — we saw the Rangers' special teams at it best, and its worst.
The Rangers twice took penalties late in the third period — an Anton Stralman hook at 14:49 and a Michael Del Zotto delay of game at 18:22 — but they killed both off. Henrik Lundqvist was at the top of his game last night, and as usual, his teammates blocked plenty of shots, as well. For all the criticism of the Rangers' power play — every bit of it deserved — at least their penalty kill has remained typically stellar. (It's currently the third best in the league.) Del Zotto could have been the goat last night after sending the puck over the glass last night if Buffalo had scored, but he got bailed out. Mistakes like that are still mistakes, but they aren't always forced to pay for them, which is great. A strong penalty kill might not be as sexy as a dangerous power play — but it's been crucial to this team's success nonetheless.
But about that power play: There were times earlier this season when it appeared the Rangers were starting to figure out what to do with the man advantage. Rather than watching everyone stand still, we saw glimpses of movement, and even when it didn't result in a goal, it appeared that they understood at least what they were supposed to do. We considered that progress. But lately, the power play has been as bad as ever. We're hardly the first to point out that in a season during which so much has gone right, this one aspect of the Rangers' game has been hard to watch — especially when presented with an opportunity like they had last night, when they went on the power play 47 seconds into overtime, when there's so much space to operate. They didn't have many power play chances last night — they were o-for-2 — but for a team that sometimes struggles to score goals, those are opportunities they can't afford to keep wasting, especially in close games. (We're also probably far enough into the season to say that the addition of Brad Richards to the power play has not had the intended effect. The power play currently ranks 26th in the league.)
Last night's game had a happy ending, of course: Ryan Callahan would score the shootout winner, and the Rangers would finish their post-All-Star break back-to-back with three out of a possible four points. Lots of games this season have had happy endings, even the ones like last night when they didn't especially dominate a team that currently sits more than twenty points behind them in the standings. But you take points however you can get them, and last night, they got two of them.
Lastly, let's just admire this save for a moment. So good.