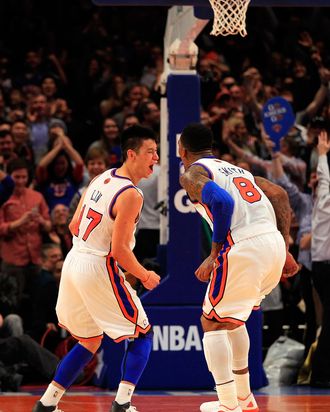 Jeremy Lin and J.R. Smith.
For the sake of narrative coherence, and for the sake of good vibes, let's ignore the Knicks' rusty, cranky, forgettable loss at home to lousy New Orleans on Friday night. It was one of those fluky, tired losses that has been happening to everybody in the NBA this season, with the compressed schedule and the quick turnaround games and the oh-yeah side issue of the team's point guard suddenly appearing on magazine and newspaper covers from Boise to Beijing. Let's instead talk about that 104–97 win over the defending champion Dallas Mavericks yesterday afternoon. Because for about 90 minutes — the first quarter and the middle of the third quarter until the end of the game — the Knicks looked like something they haven't looked like for twenty years: They looked like title contenders. They looked like a team that could beat anybody.
The best part about it: They did it with the Big Three superstar plan they've been working to enact ever since LeBron James took his talents to South Beach in front of a gaggle of blank-faced, confused children. Yep, the whole master blueprint has come to fruition. The triumverate of Jeremy Lin, Steve Novak, and J.R. Smith took the Knicks to the promised land. Donnie Walsh, thanks for being the architect!
The most amazing thing about the performance yesterday was that it came under the most difficult possible circumstances. In a surprise, Carmelo Anthony didn't make his reported return, and Amar'e Stoudemire still hasn't quite worked his way back into game shape (and looks worryingly old and earth-bound anyway). This means the Mavericks, who have one of the best defenses in the NBA and came in having won six in a row, could focus all their attention on Lin. And boy, did they! We don't remember the last time we saw a Knicks player under such defensive scrutiny as Lin was yesterday; every time he so much as slowed his dribble, two Mavericks defenders collapsed on him and trapped. Several times, Lin would drive the lane and be surrounded by five tall men flapping their arms, attempting not only to suffocate him but also to slap away any possible passing lanes. It would not have surprised us if the Mavericks hadn't installed a sniper with a constant bead on Lin in the Garden's upper deck, just in case.
Lin merely responded with 28 points and 14 assists, bracketed by brilliant first and fourth quarters. Lin found the open man almost every time, particularly in the fourth quarter, when Steve Novak turned into Reggie Miller/Steve Kerr/Hosanna King of Kings, draining three-pointer after three-pointer and even getting all giddy with a dorky-but-effective Aaron Rodgers championship belt DISCOUNT DOUBLECHECK celebration as he came back down the court. (He even played great defense and got the rebound, to boot. Steve Novak went to bed feeling like a God last night.) And Novak wasn't even the breakthrough hero of the day … and neither was Lin! (It's getting a bit nutty.) The immediate fan favorite was Smith, who just arrived from China last week and hadn't even practiced with the Knicks yet. He admitted he didn't know a single play and was just sort of "running around out there." That running around ended up with 15 points, some huge three-pointers, and an immediate showering of bliss from the delirious Garden crowd. He actually resembled Atlanta's Joe Johnson more than anyone — Johnson of course got his start in Mike D'Antoni's Phoenix offense — an Über-talented, long-range shooting dervish who can legitimately look like the most talented person on the court at any given second. Smith is going to drive Knicks fans crazy this year, in both good and bad ways, but yesterday was a glimpse of what he brings. The Knicks don't win without him yesterday, which is pretty wild, considering, you know, it was the first time he'd even met some of his teammates, including Lin.
And, ah, Jeremy Lin. Forget about the idiots like Jason Whitlock and the hideous ESPN.com headlines, forget about the front-page stories in China, forget about the constant, Twitter-fueled conversations about hype and haters and fluctuating expectations. All that is just atmosphere. The Knicks don't just have themselves a point guard; they have a lifeblood without whom they're inert. When Lin leaves the game, the Knicks lock up, almost instantly. They are already relying on him — too much, in a "Baron Davis can at least spell Lin 10–15 minutes a game, right?" way — and whenever someone has the ball in the halfcourt, you can see them searching for Lin, to give it to him, so he can steady everything, so he can make everything all right. The Knicks are Lin right now, at least on offense. (And we remind once again that the Knicks have made this surge because of Lin and because of a shockingly lockdown defense, led by Tyson Chandler and Jared Jeffries.) Lin has been leading this Knicks run with somewhat deficient offensive options, trying to make do with Jeffries cutting to the basket and Bill Walker launching three-pointers. Yesterday, though, he had Smith and Novak and Stoudemire and the go-go Landry Fields and Chandler. And tonight he's going to have Carmelo Anthony. The Knicks are becoming a team of weapons for Lin to utilize. And Lin himself might be the most powerful weapon of all.
Listen, lots of things can still go wrong. A key player could get hurt, particularly Lin. Carmelo could mess up everything, though the way this offense is looking, it's tough to imagine even him mucking it up. The defensive issues with Anthony and Stoudemire in the lineup cause more trouble than the offense can fix. The nasty early-March road trip could derail the good mojo, particularly on a team that rarely has time to practice.
But yesterday, you saw a team that could compete for a championship. You saw Knicks basketball at its two-decade peak. You saw what happens when it all comes together, led by the unlikeliest of characters. The best thing about all this is that this ride is just beginning. This isn't a fluke, or a fun February fad anymore. This is the real thing. Strap in, folks. This is what everyone had been waiting for.
And if you don't believe us … trust the guy who wrote the "Teen Wolf" song.