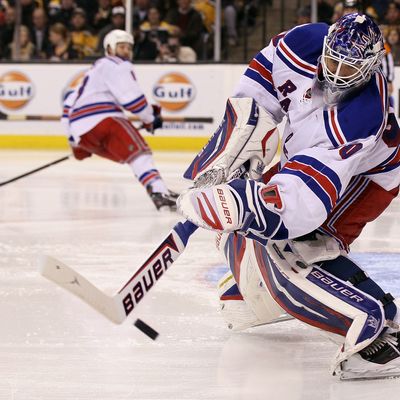 Last night, the Rangers beat Boston for the second time in two tries this season, and extended their lead over the Bruins in the conference standings to nine points. Over their last ten games, the Rangers have earned 17 out of a possible 20 points. They've had a busy schedule of late, but they've won all three of their games in the last four days, and all four of their games in the last six days. They have the best points percentage in the entire National Hockey League. Pretty wild, isn't it?
Rangers fans concerned about getting too high right now are encouraged to watch John Tortorella's post-game remarks from last night, in which he praised Henrik Lundqvist—more on that guy in a second—but wasn't especially pleased with his team's overall performance. (Sample quotes: "We were sloppy" and "I don't think we were totally on our game.") And so perhaps the Rangers were a little tired last night, and maybe they could do a better job of playing a full 60 minutes. But we're reminded again why Henrik Lundqvist is so valuable. On a night in which the Rangers — by their own coach's assessment — played something less than a perfect hockey game, they still beat the next-best team in the conference, 3-0.
Lundqvist was at the top of his game last night, stopping all 42 Boston shots, including 18 in a third period in which his team was outshot 18-3. He made one of those 42 saves with his back. It was one of those nights. Observe:
Lundqvist is having the best season of his career, and if he keeps this up, he's a smart bet to win his first Vezina trophy after the season. But for now, we're seeing this year how a well-rested Ludnqvist has taken his game — which was pretty darn good to begin with — to another level. The Rangers don't always need to rely on Lundqvist alone to win games — there are a number of reasons they are where they were — but he's capable of carrying this team when he needs to. It's how a team can have stretches like the one the Rangers are on now: Lundqvist allows them to win games in which not everything is clicking — and those points are on top of the ones earned in games the Rangers turn in a more complete effort.
All season, we've looked at games against quality teams like Boston and Philadelphia as a way to gauge exactly how good this Rangers team is. (If you're keeping track, by the way, they're now 7-0 against those two teams.) At this point, though, there's no doubt the Rangers belong in any discussion about the best teams in hockey. Having the best goalie in the game isn't the only reason they're in that discussion, but it sure does help.