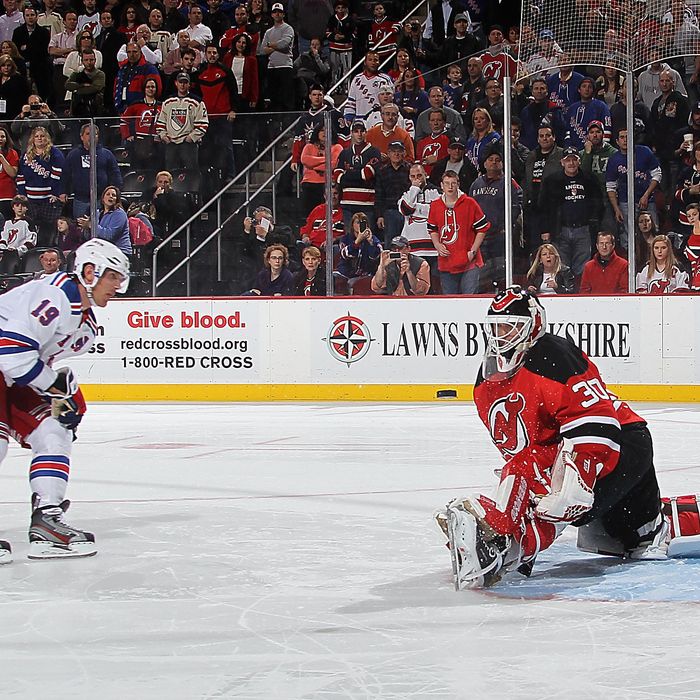 Martin Brodeur stops Brad Richards in the shootout last night.
After Rangers victories — particularly ones in which they come away with two points despite not particularly dominating their opponent — John Tortorella is fond of saying that the Rangers "found a way to win." It's a non-specific assessment, but that's sort of the point: They've won games in a bunch of different ways this season, oftentimes performing just well enough to earn the victory. And so last night in Newark, on a night when John Tortorella was generally pleased with the team's effort, it might be accurate to say they found a way to lose.
Twice last night the Rangers had a lead in the final five minutes, and twice New Jersey tied the game. The second of those late Devil goals was set up by a bad bounce — not much the Rangers could do about that — but the first of them came after a bad Ryan Callahan turnover in which he tried to carry the puck into the Devils' zone while killing a penalty instead of dumping the puck deep. (Perhaps the Devils' reputation as a team prone to giving up short-handed goals benefited them here?)
The Rangers came close to scoring in the five-minute overtime but didn't — Derek Stepan's tuck-in attempt with less than two minutes remaining slid through the crease, parallel to the goal line — and they couldn't get a puck past Martin Brodeur in the shootout, either. Ilya Kovalchuk, meanwhile, beat Martin Biron five-hole to score what would be the shootout's only goal. (Not to pick on Biron, who's been very good this year, but you could have driven the Zamboni between his legs on that Kovalchuk shot.) Final score: Devils 4, Rangers 3.
One gets the sense that a win like this will lift the Devils — currently in seventh place in the Eastern Conference — more than it will deflate the Rangers. For a New Jersey team that needs every point it can get, a wild victory over the first-place team in the conference — and a rival to boot — is worth celebrating, at least for a couple of days. The Rangers, meanwhile, don't have much time to dwell on last night's loss: They're back in action tonight, against the Sabres in Buffalo.