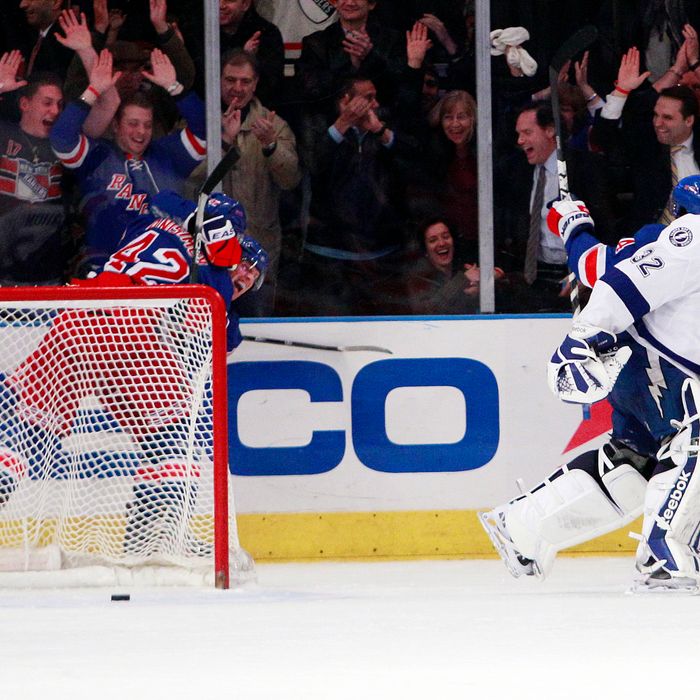 Artem Anisimov and Brad Richards celebrate last night's overtime winner.
Last night, Rangers fans witnessed two events that have been all too rare lately: a power-play goal and a Brad Richards goal. (Speaking of rare events, congrats to Scotty Gomez!) The goal with the man advantage, which tied the game at 1, came so early on their first power play that the fans in our section barely had a chance to break out their "we should decline the penalty" jokes. The Richards goal, meanwhile, came 2:37 into overtime — his seventh game-winning goal of the season. And so Rangers fans also saw something that they've seen plenty of this season: a Rangers victory — one that improved their home record to 17-6-2.
The Garden was quiet at times last night, but came alive after Brian Boyle scored a huge goal to tie the game at 3 with 9:47 to play in the third period. (If that was the highlight of the night for the Massachusetts-born Boyle, we'd have to think that posing for this picture with the Giants' offensive line was one of the lowlights.) The game also featured one scary moment: Dominic Moore's hit on Ruslan Fedotenko, in which Moore's shoulder made contact with Fedotenko's head. We expect Moore will be getting a phone call from NHL sheriff Brendan Shanahan at some point in the next day or two.
The Rangers had been a bit up and down over the second half of January, but they've won three of their last four games now, and they're 5-1-1 over their last seven. Both of those losses, by the way, came to the Devils, and it's worth pointing out just how tough the Atlantic Division is right now: Four of the five teams with the most points in the East are in the Atlantic. The Rangers, though, still lead the conference: They're now five points ahead of Boston and four points ahead of Philly, with two games in hand.