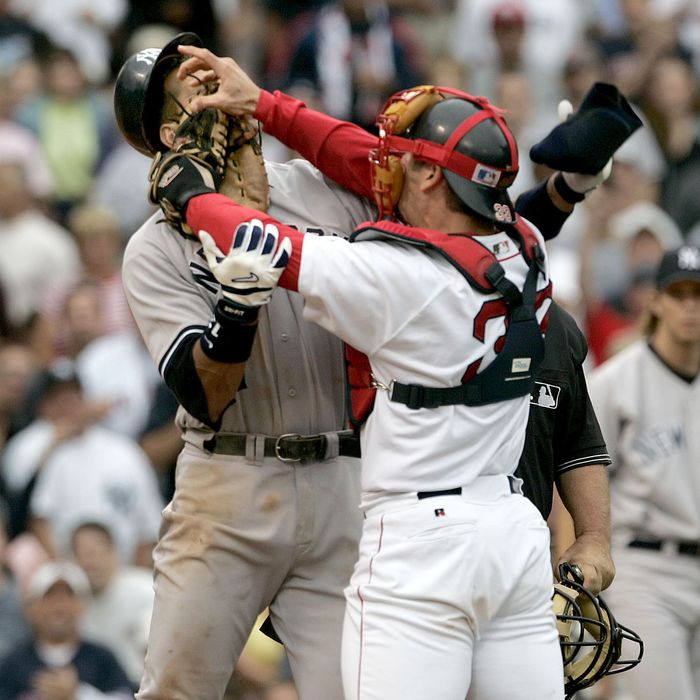 Alex Rodriguez and Jason Varitek.
Red Sox captain Jason Varitek will officially announce his retirement on Thursday.* Varitek is the fellow on the right in the above photo — one that we assume hangs framed and matted in the den of every home in New England. That photo was taken at Fenway Park on July 24, 2004, at a moment in which the Red Sox trailed the Yankees by nine-and-a-half games in the American League East. The New York-Boston rivalry was as intense as ever those days: Aaron Boone's home run had won the 2003 ALCS some nine months earlier, and that February, the Yankees acquired Alex Rodriguez, after Boston had tried to trade for him earlier in the winter. Yankees fans, in July of 2004, had just about every conceivable bragging right over their Boston counterparts.
Anyway, during that July 24 game, Alex Rodriguez (who'd driven the go-ahead run in the ninth inning of the Yankees victory the previous night) came to bat in the top of the third with two out and the bases empty. The Yankees led 3-0 against Boston starter Bronson Arroyo, and with a 1-1 count, this happened:
In case MLB Advanced Media has that video removed from YouTube by the time you try and watch it, know that Arroyo drilled A-Rod with a pitch, A-Rod appeared to say some mean things to the righty as he walked to first base, Varitek got in between them, and then snap, the above photo happened. Varitek and Rodriguez would both be ejected after the ensuing bench-clearing brawl, as were Gabe Kapler and Kenny Lofton. In Varitek's words:
"I told him, in choice words, to get to first base," Varitek said. "And then it changed from him yelling at Bronson to [us] yelling at each other, and then things got out of hand."
The Red Sox would win the game, and their fans now had the perfect image to represent their feelings toward the Yankees: The beloved Varitek punching the despised Rodriguez in the face. And what could Yankees fans do, really? Complain that Varitek left his mask on when he took his shot at A-Rod? Whine about Boston pitchers throwing at Yankee batters? Why bother? In this specific area — the one that involves making the other's team's stars look bad — Red Sox Nation could claim victory, thanks to Varitek. There would be more significant Boston victories to come, but is there a more perfect snapshot of the Yankees-Red Sox rivalry in 2004 than this? It pains this Yankees fan to say it, but we don't think that there is.
* This post has been corrected. Varitek will announce his retirement on Thursday, not tomorrow.