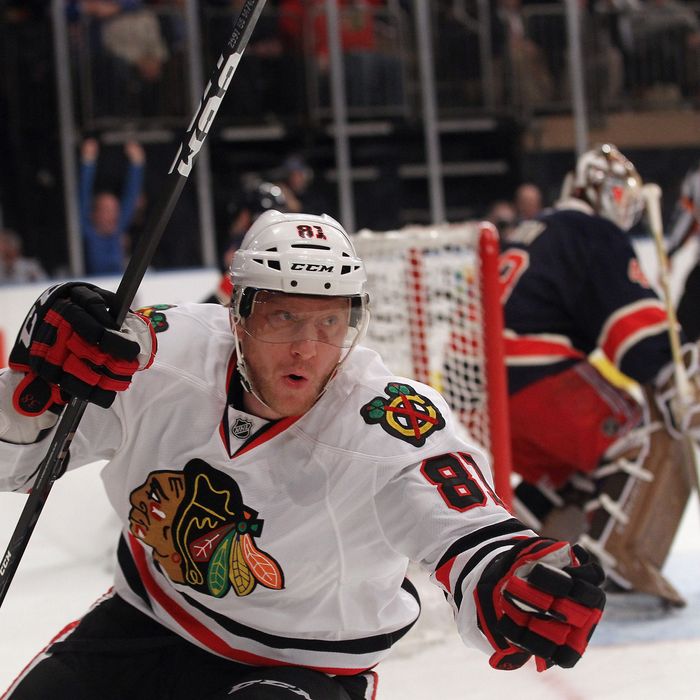 Marian Hossa celebrates a goal last night.
That the Rangers allowed four goals in the first ten minutes of last night's game is bad enough — but that they allowed four goals in the first ten minutes despite spending four of those minutes on the power play is almost unthinkable. Maybe they were due for a game like this, after going 8-1-1 in their last ten games. Or maybe the Blackhawks were due for a start like that following nine straight losses, eight of which came in regulation. But either way, those four goals provided too big a hole last night, and Chicago would go on to a 4–2 victory.
The Rangers would play better after that disastrous start, but the damage had already been done. And don't place all the blame on Martin Biron here: Two of those goals came on breakaways, one on a penalty shot, and one through a screen. Which isn't to say Biron can't come up with a save or two in a one-on-one situation, but the players in front of him let him down. (Dan Girardi, especially, will want to put this game behind him.) And though the Rangers would have chances to score after those opening ten minutes, they also didn't do much with their power play opportunities: They were 0-for-7 on the night.
This Rangers team has done a great job this year of getting over losses quickly and avoiding lengthy losing streaks. Last night was ugly — or at least, those first ten minutes were ugly — but even contenders are allowed a stinker from time to time. They're next in action on Sunday against lowly Columbus, the current employer of one Rick Nash.