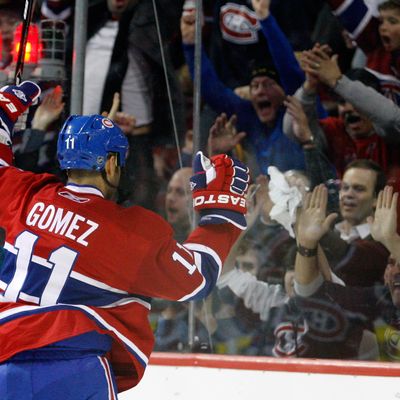 Scott Gomez on February 5, 2011.
One of Glen Sather's best moves in recent years was shipping Scott Gomez to Montreal in a seven-player trade that not only cleared the cap space necessary to sign Marian Gaborik, but also sent a kid named Ryan McDonagh to New York. (The Rangers also got Chris Higgins in that trade, and he'd eventually be part of the Brandon Prust trade, at the time known as the Olli Jokinen trade.) Anyway, that deal with Montreal is looking better and better every day.
Gomez has been, shall we say, struggling to find the net lately: Unless he scores in tomorrow's Canadiens-Capitals game, Sunday will mark one full year since he last lit the lamp. That goal came against the Rangers, back on February 5, 2011. Gomez took a carom off the end boards with his backhand, brought the puck to his forehand at the side of the net, and shelved the puck over Rangers goalie Martin Biron. You can see the video here. Look how happy he is.
Habs fans are at least embracing the stunning lack of production from a guy who will make $7.5 million this season, and have some plans for when Montreal hosts Winnipeg on the one-year anniversary Sunday. From celebrations-gomez.com:
To celebrate this magic day, we ask the fans at the Bell Centre to wear party hats and funny costumes and to bring balloons and homemade posters showing your love for Scott. You can also download the official celebrations kit.
Yes, there's an official celebrations kit. Organizers of this campaign want fans to cheer every time Gomez touches the puck. There's singing planned, too. They say this part is a surprise, so Scott, if you're reading this, click on something else RIGHT NOW.
At 11 minutes 11 seconds (11:11) of each period, we will all sing together :

Happy Birthday Gomez
Happy Birthday Gomez
Happy Birthday Dear Scotty
Happy Birthday Gomez
But remember, Gomez still needs to go goal-less in one more game to reach the one-year mark. So we'd encourage anyone heading to the Bell Centre on Sunday to check the ever-helpful didgomezscore.com before they leave. There, you'll find the answer to the question, "Did Scott Gomez score last game?" (Current answer: "No.") C'mon, Scott: Habs fans, and fans of free booze, are cheering for you.