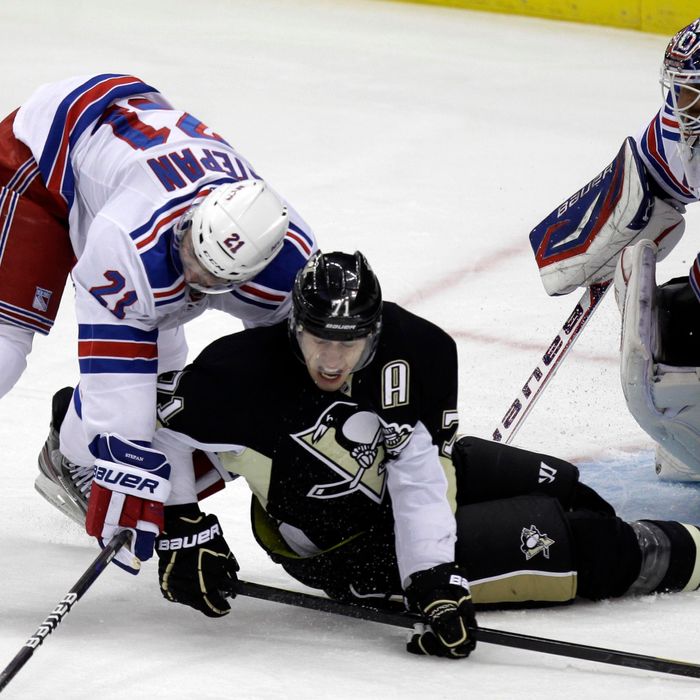 So the Rangers have lost two of their last three games, with an overtime victory to lowly Columbus coming in between defeats at the hands of Chicago and now Pittsburgh. In last night's shutout loss to the Pens, the Rangers generated a few scoring chances but were generally outplayed by a Pittsburgh team that's beaten them twice in a row (after dropping the first two meetings between the teams this year). Pittsburgh's MVP candidate, Evgeni Malkin, had a goal and an assist last night, while the Rangers' MVP candidate, Henrik Lundqvist, couldn't steal this one for his teammates. And over the past week — following a stretch in which they went 8-1-1 — the Rangers have just five goals in three games. It's hardly the worst stretch of hockey we've ever seen, but it qualifies as a slump nonetheless.
There's no reason to panic here: The Rangers have done an excellent job this season bouncing back after losses and avoiding prolonged slumps. (They haven't lost consecutive games since mid-December.) And so if this is as bad as it gets — two losses in three games following a terrific ten-game stretch — they'll be just fine. But this is also a critical point in the season: The trade deadline is just five days away now, and though we'd like to think Glen Sather won't be swayed by just a couple of games when considering whether to make a blockbuster move, the team has looked like something less than a Cup contender over the past week.
The Rangers still have a seven-point lead over next-closest team in the conference — that would be the Devils now, by the way — but teams are tightly packed in the middle of the playoff picture: The Devils have 74 points, the Flyers and Penguins each have 73, the Bruins have 72, and seventh-place Ottawa is in the mix as well, with 70 points. It's still far too early to try to figure out any potential playoff matchups, but just like the Devils (and, for that matter, the Senators), the Penguins have shown they could give the Rangers some trouble. The Rangers are off now until Friday, when they'll face the Islanders at Nassau Coliseum.