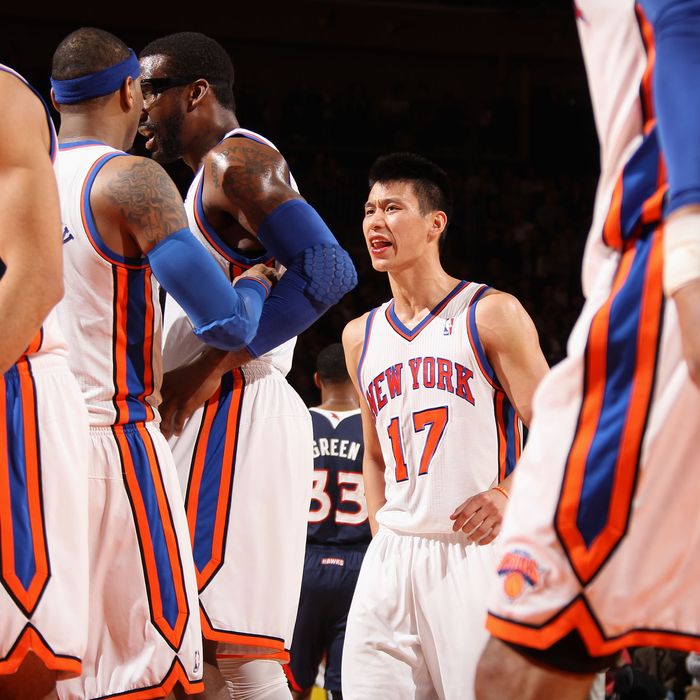 The Knicks' second-half schedule will be a lot tougher than the first half, particularly at the beginning. We really can't overstate how rough the schedule is after tonight's home game against Cleveland. In order, starting Sunday, you have: at Boston, at Dallas, at San Antonio, at Milwaukee, home against Philadelphia, at Chicago, home against Portland, home against Indiana, at Indiana. That veers toward the brutal. If they can go 5-4 during that stretch, you have to be ecstatic; 4-5 or even 3-6 is more likely. (Remember, these guys are still trying to put this all together. That first practice they had yesterday was apparently a ragged one.) Which means tonight's quite winnable home game with the Cavaliers could really stand to be, you know, won.
The extra days off — with three more days off to practice after tonight's game — allowed everybody to chill out a little bit. Amar'e Stoudemire went to the Caribbean. Jeremy Lin went fishing. Mike Bibby, we dunno, went to a mall maybe? All the teams the Knicks will be trying to catch in the second half — Atlanta, Philadelphia, Indiana, Orlando — are all up and moving as well, so this horse race is on.
For many Knicks fans, the second half of the season promises to be almost a relief. It'll be pressure-packed, particularly during this next fortnight — the schedule eases up the latter half of March before ramping back up in April — but the global gaze of Linsanity has to settle down a bit. The Knicks need to relax into being an actual basketball team, with moving parts, improved depth and a real chance to make some second-half noise and secure a desirable playoff seed.
Knicks fans, over the last ten years, have either had a terrible team (this was the majority of the time) or a slightly above .500 team that underwent dramatic midseason upheaval. Last year's team made the playoffs but shifted its entire roster with one trade. This year's team seems assured of making the playoffs but has had about six different incarnations, from pre-pre-Lin, to pre-Lin, to Lin, to Lin-with-Carmelo to this version, which is as close as the Knicks have had to a normal, stable, functioning roster in years. Josh Harrellson and Iman Shumpert should be ready to play tonight, so the only guy they're missing is Bill Walker. This is what the Knicks look like, fully rested and ready to go. This is what they have to work with. This is as stable as the Knicks get. Now they have to figure it out and start winning. This is what we've all been waiting for. It's time to see what happens.