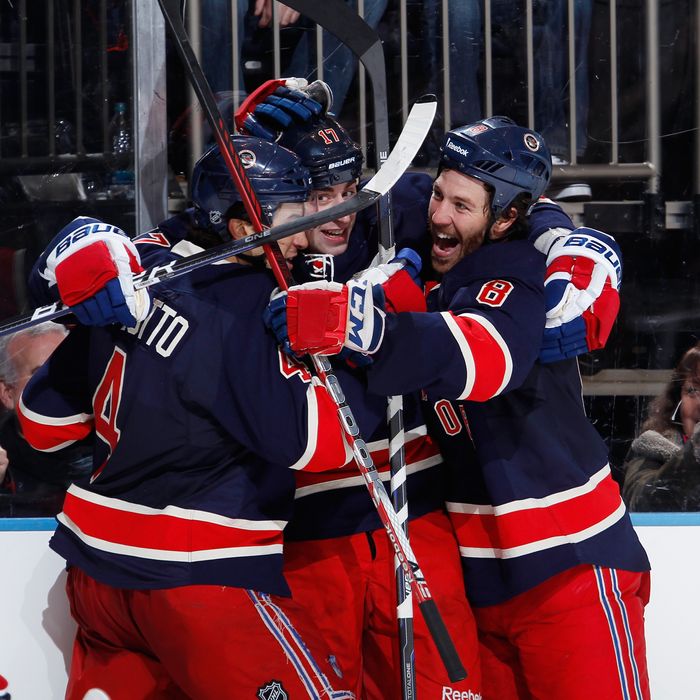 The Rangers celebrate Brandon Prust's goal yesterday.
We'd like to think the Rangers are getting to the point that casual sports fans — the ones who don't follow hockey every day, but aren't necessarily opposed to watching the sport — will have no choice but to pay attention to them. The Rangers won twice this weekend to improve their record to 36-13-5. They've won three in a row, and are 7-1-1 in their last nine games. And after a couple of weeks of alternating wins and losses in January, they appear to be back on track now, and have a seven-point lead over the Bruins in the Eastern Conference.
This weekend was especially satisfying: On Saturday, they won their fifth game in five tries against the Flyers this season, and even their struggling power play looked impressive for a day. And while beating the Capitals isn't quite the feat it has been in recent years, yesterday's game included goals by Ryan Callahan (his fourth of the weekend), Ryan McDonagh (who earned the Broadway Hat for the first time and thankfully wasn't seriously injured when he collapsed to the ice following his goal), and Brandon Prust (who scored for the first time since the team's season-opening road trip). The diehards who've been following this team all along have to be pleased, for the most part, with what they've been seeing.
But it's those casual fans we've been thinking about lately. Look, we understand hockey's place in this city. Of course a Giants' Super Bowl run will overshadow what they've been doing, and Jeremy Lin has proven over the last week that the Knicks can still grab headlines, for all the right reasons. But we lived through 1994. We've seen New York embrace the Rangers in the past, and we'd like to believe that fans who've lost touch with the sport can remember how exciting it is to have a legitimately good team to cheer for. And not to get too ahead of ourselves here — it's still only February — but the Rangers have proven time and time again this season that they're a legitimately good team.
We've always felt like hockey fans — the ones who get it — are perpetually trying to spread the good word about the sport, to convince people that if they just gave the game a chance, they'd fall in love with it. Perhaps there's a segment of hockey fans who don't care whether everyone else pays attention. And we're sure that the diehards who never went away through tough times would be skeptical of those jumping on the bandwagon just as things are getting good. But it's a lot easier to get New Yorkers to pay attention when there's a quality team to cheer for.
As this team gets closer to the playoffs — particularly if it remains at the top of the conference standings — we're curious exactly how much buzz it can generate. There's a column in the Daily News today by Filip Bondy that talks about how the Rangers have been flying under the radar this season — except you wouldn't know the column exists by looking at the back page, because of the wall-to-wall Jeremy Lin coverage. (That kind of proves Bondy's point, doesn't it?) We don't blame the Daily News here, by the way: Jeremy Lin is a big deal right now, and he's getting attention not just locally, but nationally, too. But it proves just how much easier it is for the Knicks to capture the city's attention. After one big week, Lin's a mainstay on the backpage. For the Rangers to get that kind of attention, they can't be simply sneak-into-the-playoffs good; they need to be a legitimate contender — one that appears capable of a deep playoff run. And right now, on February 13, they appear to be just that. A lot can change over the next two months, but that can be said not just about the team itself, but about how much attention they receive.