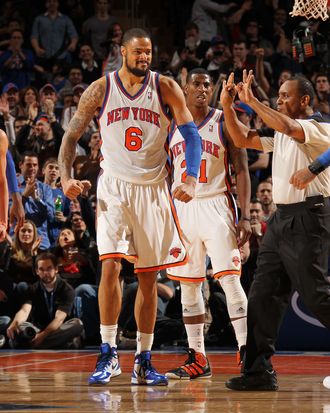 All right, you two, let's do it.
Has Amar'e Stoudemire been the most disappointing Knick this season? Carmelo Anthony took most of the heat for the Knicks' rough start, but he's still the Knicks' best player, and criticisms toward him have been more of the personal than the physical. ("Ballhog!" rather than "lollygagger," that is to say.) Tyson Chandler has been outstanding, all the Knicks could have possibly wanted. Toney Douglas has been a disaster, both as a point guard and as a shooter, but no one could have reasonably expected him to be a superstar this year. Landry Fields, after an initial rough spot, has come around, even before Linsanity struck. No, the guy whose season has been the toughest, the one who has been questioned the most, the one who has even been included in trade rumors, has been Amar'e, the first superstar to come here, the one who initiated any sort of Knicks resurgence in the first place.
A look through Amar'e stats this season causes considerable concern. He's averaging 18.2 points per game (his lowest since his rookie year), 8.1 rebounds (lowest since 2006), and 44.2 percent from the field (the worst of his career by a large margin). He has looked alternately lost (countless reckless charging fouls into the lane) and slow (he's beating far fewer guys off the dribble) and lethargic (he has been consistently burned on defense, even more so than usual). His shot hasn't been falling, he's been disoriented, he's been called "done" by national columnists who have races to say things like that first.
Until, that is, two weeks ago. Before Stoudemire left for Florida to mourn the passing of his older brother Hazell, Amar'e had been playing his best basketball of the season. In losses to Chicago and Boston, Amar'e looked terrific, finally draining some jumpers and even showing some of his old stutter-explode moves. Here's our favorite one.
And that was before he had a point guard. He has one now. The Lin-as-Nash-to-Amar'e's-Amar'e meme has already taken hold, and for all Stoudemire's disappointment this year, the general consensus is that Lin will be the balm to all that has ailed Amar'e. (And of course the whole team.) Carmelo's had the better year, but he's considered the one that won't fit.
This makes sense in one way, in that everyone will feel a ton better with Amar'e streaking to the basket on pick-and-rolls than they did Jared Jeffries. On the other hand, one of the reasons Lin has been getting the ball in the space on the open court is because Jeffries has been playing such ferocious defense that there are more opportunities for plays in transition. Amar'e's defensive woes are well documented, and it might behoove Mike D'Antoni, particularly with Amar'e still needing to get his groove back after a week away, to switch out the two whenever possible. Jeffries has proven to be a more valuable piece of this team than anyone could have anticipated. Amar'e's return shouldn't change that.
That said: The idea of Amar'e exploding to the hoop after one of Lin's perfectly places lobs … we're salivating at the thought. The game starts at 7 p.m. in Toronto tonight. We've already painted our face.