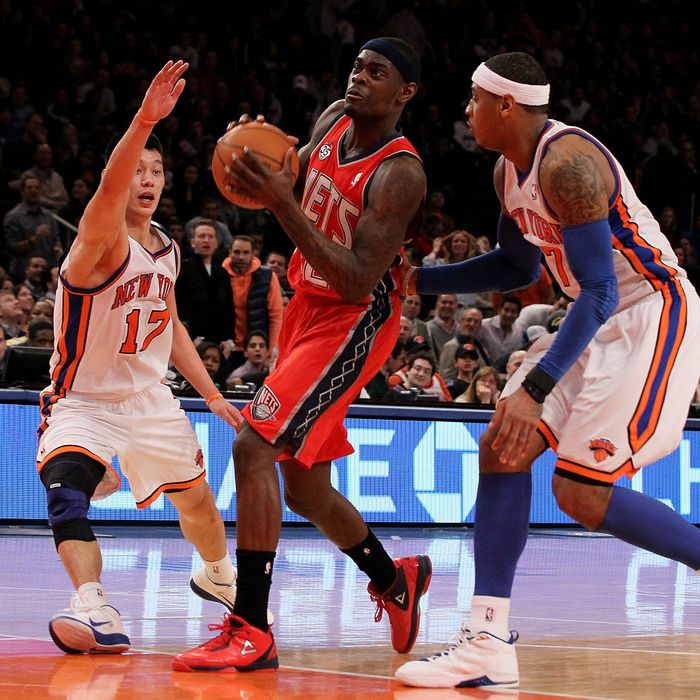 Jeremy Lin, Anthony Morrow, and Carmelo Anthony at the Garden on February 4.
After yesterday afternoon's thrill ride against the Dallas Mavericks, it feels like the Knicks should have a week off just to stop everybody's eyeballs from slot machining around their sockets. But this is the compressed lockout schedule, which we're pretty sure at one point is gonna have teams playing six games in one day, or playing on two courts at once. So the Knicks head back out to the Garden tonight to play the New Jersey "Have You Seen How Much Work Has Been Completed on the Barclays Center?" Nets. And for a Presidents' Day game against a 9–24 team, there are plenty of subplots.
First off, Deron Williams, who has had just a miserable season, not so much in his own play (though he and his numbers have both down), but in the misery that surrounds him. The Nets' trade for Williams looks like a total bust, because unless Dwight Howard wants to suddenly leave the playoff-bound Orlando Magic to come to a sunken team with no guarantees of anything, in the next month, Williams is (probably) gone to Dallas with all sorts of ugly Jersey memories in his wake. It's tough to think the bright folks running Nets Corp. — and they are bright — will botch what they have coming there, but right now, Brooklyn looks a lot farther than eight months away.
It is, however, just eight months away. Tonight will be the last visit by the New Jersey Nets to the Garden; from now on — well, until they move to Boise, anyway — it'll be the Brooklyn Nets crossing the other river to dribble in MSG. Williams will have a rare reason to be inspired tonight; this whole Jeremy Lin business got started against him and the Nets two and a half weeks ago, and the prideful Williams will have his dander up not to be embarrassed again — even if the next time you see him at MSG, he might be tossing passes to Dirk Nowitzki.
But, bah, Nets, don't worry about the Nets. The real story is that Carmelo Anthony is almost certainly going to play tonight. (Though, with him, that could always change; everyone thought he was playing Friday against New Orleans. The Knicks could have used him, actually.) It's also possible that Baron Davis will make a cameo appearance, but Carmelo's the real story. It has been two weeks since his groin injury — which happened on a pretty alley-oop to Tyson Chandler, by the way — and the entire course of franchise history has changed in those two weeks. After yesterday, it's tough to imagine a situation where Anthony and Lin don't make it work, but again: Carmelo doesn't have much of a history of "fitting in." Players with his immense talent rarely do.
If Anthony returns and Davis makes his debut tonight, the Knicks will have everyone back other than Josh Harrellson, who will return after the All-Star Break. The Knicks will be one piece again. (Until someone else gets hurt.) When Carmelo went out with his injury, the Knicks' leading scorers were Jeremy Lin, Steve Novak, and Jared Jeffries. And they won. Since that game, if everyone comes back, the Knicks will have added Anthony, Davis, J.R. Smith, and Amar'e Stoudemire since that game. Those are a lot of weapons to work with. You can do something terrific with that. It starts tonight, as we all say good-bye to the New Jersey Nets. As long as they don't bring up the 2004 playoffs, Knicks fans promise not to bring up everything other aspect of the New Jersey Nets franchise experience. Deal? Deal.