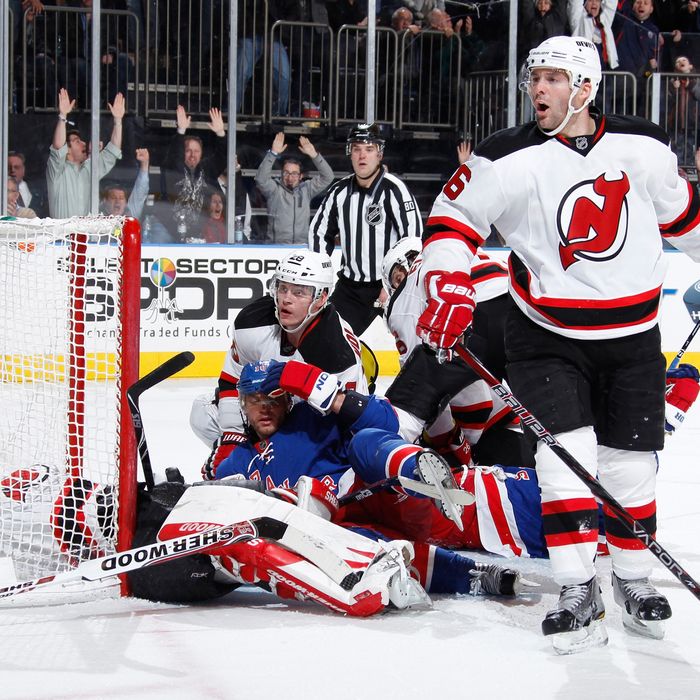 Is there a more perfect video clip from last night's Rangers game than the one of John Tortorella's reaction to the disallowed game-tying goal in the final seconds? There's a brief moment of elation, followed immediately by lots and lots of shouting. On the play, Artem Anisimov appeared to tie the game at one with 3.5 seconds left, but the refs waved off the goal, and sent Marian Gaborik to the penalty box for goaltender interference. Afterwards, the teams differed on whether the right call was made: Devils coach Peter DeBoer though the call was correct, as did defenseman Anton Volchenkov, who said he "maybe pushed [Gaborik] a little, but I didn't push so hard." Gaborik, meanwhile, thought the goal should have stood because he was pushed into Brodeur, and while John Tortorella didn't comment on the play after the game — perhaps to avoid another fine for criticizing officials — his reaction on the bench told us all we need to know. (If you haven't seen Al Trautwig's reaction, by the way, please do check it out. BRUTAL, he says!)
Here's the play, if you'd like to see for yourself:
Martin Brodeur was sharp last night, particularly during a third period in which the Rangers badly outshot New Jersey, and the Devils remained red-hot, winning their fifth straight game. The lone goal came on a Devils power play in the first period, while the Rangers continued to struggle with the man advantage: They were 0-for-3 on the night, and have just one power play goal in their last thirteen games.
This is an interesting stretch for the Rangers: They're 6-4-1 in their last eleven games. They've avoided long losing streaks, as they have pretty much all year, but they've also had trouble stringing together wins over the past few weeks. There have been some impressive wins over that period — Sunday's victory over Philadelphia, the win in Boston, and shutouts against Toronto, Nashville, Winnipeg, and Buffalo — but they haven't won more than two straight games in a month, and in their five losses over that stretch, they've scored just five goals, three of which came in one game last week against the Devils. Which raises the question: Are we seeing the Rangers come down to earth a bit, or is this simply what a "slump" looks like for a team that's good enough to win the conference? Either way, they're still in first place in the East: They lead the Bruins by three points.