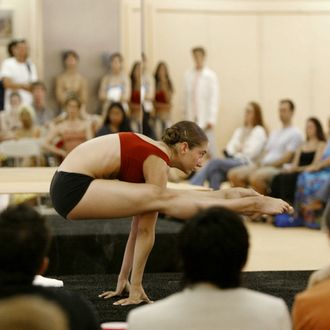 A competitor at the 2003 International Yoga Championship.
Ask some dedicated yogis why they kicked their practice into high gear, and they'll cite improved health, relaxation, and perhaps even spirituality. For Rajashree Choudhury, it was shiny objects: Rajashree, born in Kolkata, India, was introduced to competitive yoga at age 9 and recalls the contestants "doing beautiful poses and earning bigger trophies." She forsook track and field and started bending herself into an unstoppable, title-winning pretzel. She won five national championships in India — and, along the way, eventually came to appreciate the practice's less-tangible, non-hardware benefits.
Rajashree's goal now is to entice others into experiencing those payoffs; trophies and medals, like they were for her, are tools to get them onto the mat. With that mission in mind, Rajashree will bring the ninth annual Yoga Asana Championship to Times Square's Hudson Theatre from March 2 through 4 (the New York regionals are on the 2nd, and the national semifinals and finals — in New York City for the first time — on the 3rd and 4th). She's a founder of the United States Yoga Federation (USA Yoga), which aims to grow yoga as a sport and ultimately make it part of the Olympics.
USA Yoga's logo is a dead ringer for the NBA's: a red, white, and blue crest with a silhouette of a man performing standing bow-pulling pose instead of dribbling a basketball. The championship has a corporate sponsor: Zico coconut water, the Coca-Cola Co.–backed yoga equivalent of Gatorade. And, of course, someone wins. Judges award points for postures' form and depth as well as the "overall grace" of the routines they make up. (Entrants execute five compulsory poses and show off with two more of their choosing.) Judges start with 10 points for each posture and deduct for flaws along the way. For example, the official guidelines prescribe a half-point deduction for trembling and 5 for falling out of a pose. Some postures are dismissively described as "easy" and lose 4 or 5 points off the bat. Grace is worth 10 more points, for a total of 80. The grace passage includes nuggets like: "Grace possesses an element of ego-free glamour that includes a confident and graceful internal state." Until a change this year, it also said "rashes and other blemishes are deducted from grace."
The best competitors do indeed maintain grace as they achieve mind-blowing contortions. Last year, for one of her optional postures, Afton Carraway — the women's national champ — chose "one-armed peacock," balancing her body parallel to the ground using one hand. For the other, she performed "scorpion tiger," lifting her legs up from behind and curling her back until her feet rested on her head, all while balanced on her forearms — with a smile on her face.
Yoga-championship competitors and organizers talk as if it's a weird coincidence that someone wins. "You don't have to use the word 'competition,'" says Rajashree. Afton Carraway herself says the event is "about celebrating yoga rather than being fierce and competitive." First-time competitor Vicky Sarmiento believes "other competitors … [are] trying to encourage you to do as well as they do, or better." (Sarmiento says she's doubtful about her chances against "crazy people without spines.")
Rajashree is determined to get yoga to the Olympics: Her group will host 40 tournaments in 2012, she says. The national tournament will feature 124 entrants. Rajashree aspires to eventually get competitive yoga into school sports programs. Yoga competitions, Rajashree says, have taken place in India for nearly a century, and Americans who scoff at the idea should be more flexible: "You have to stretch the mind."