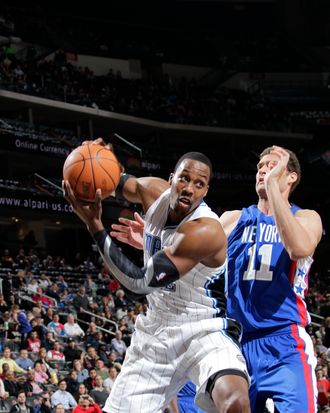 Howard on "Dwight Night".
The Orlando Magic absolutely throttled the Nets in Newark last night, racing out to a quick double-digit lead and withstanding a run in the third to win quite handily. Dwight Howard dominated the New Jersey front line, notching an effortless twenty points and seventeen rebounds, much to the delight of the road crowd. Yeah, it's no secret that the Nets and their fans want Dwight Howard, and they expressed that rather directly with chants of "We want Dwight!" in the first quarter, signs, and cutouts of Dwight's face. The organization itself even subtly stoked the fire with additional Brooklyn-centric signage in the arena, the Nets decked out in their throwback "New York" jerseys, and, you know, actual fire shooting out of stuff. Jay-Z showed up, too.
Howard, who's gotten in trouble for engaging too directly with his non-Magic suitors before, was focused and professional after the action. He called all the hoopla "a humbling experience" (Was it really? 15,000 people chanting your name?), but otherwise insisted on talking mostly about basketball things. Deron Williams, incidentally, joked that he was "jealous" and "might not re-sign here because of that".
It's hard to say how an occasion like this affects the decision-making of Howard and the Magic. Knicks fans at Madison Square Garden have done things like this in the past, most notably when LeBron James and Carmelo Anthony were in town over the past two seasons, and I guess they had a success rate of 50 percent, eh? It's widely known that Howard wants to play with Williams (the Nets' response: sign everybody in the NBA named Williams), but whether that comes to pass in New Jersey or elsewhere — like Dallas for instance — remains totally uncertain. It will probably depend on the Nets' ability to swing a deal for Howard so, if anything, the performance of a guy like Brook Lopez (fifteen points and four rebounds in minutes capped for injury recovery) is more meaningful than any clever sign or pyrotechnic display. Can't hurt, though.