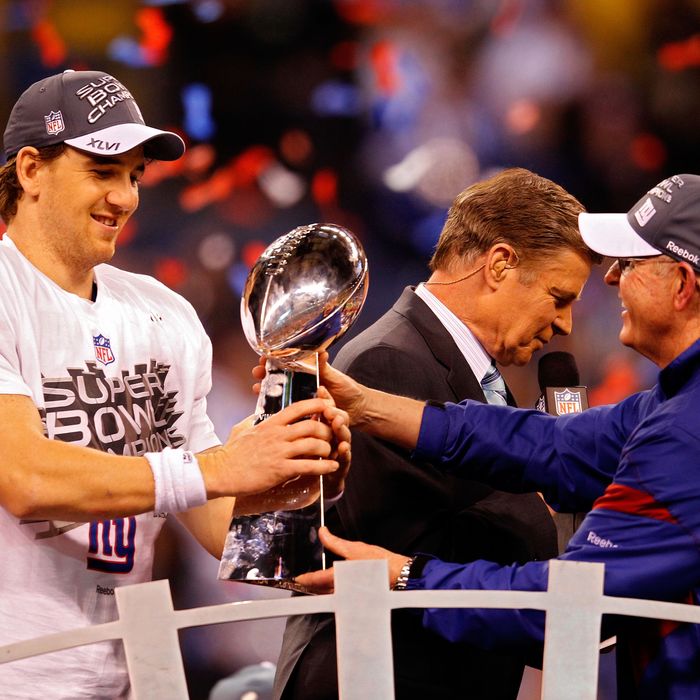 They're probably still touching it.
INDIANAPOLIS — Particularly in this instant-react, earth-is-being-live-tweeted culture, one always wants to be a bit hesitant to start proclaiming anything the best or worst anything. (Especially so soon after the event itself. Sometimes it's nice to actually experience things before putting them in perspective.) But still: That Super Bowl was rather awesome, wasn't it? But how awesome was it?
Last week, Richard Rothchild of Sports Illustrated graded all 45 Super Bowls, from A+ down to F. (Rothchild had a lot of Fs — nine — for a sporting event that's essentially whippets-level piffle. Why so angry, Richard? The Super Bowl can never truly get an F. And particularly not the Super Bowl Shuffle Bears–Patriots game, for that matter.) He had seven A-plusses, and they all seem pretty solid to us. They are:
Super Bowl XXIII, San Francisco vs. Cincinnati, 1989.
Super Bowl XXV, NY Giants vs. Buffalo, 1991
Super Bowl XXXIV, St. Louis vs. Tennessee, 2000.
Super Bowl XXXVI, New England vs. St. Louis, 2002.
Super Bowl XXXVIII, New England vs. Carolina, 2004.
Super Bowl XLII, NY Giants vs. New England, 2008.
Super Bowl XLIII, Pittsburgh vs. Arizona, 2009.
Those seem like solid enough choices to us, and, by the way, how fantastic is it that five of the best seven Super Bowls of all-time have been in the last twelve years? Actually: Better make it six.
But does last night crack the top five? Let's see what it has going for it, and against it.
FOR
Definitive play. The Manningham catch, or even the Bradshaw "accidental" touchdown.
Hall of Fame–level quarterbacks. Two of 'em, looks like it.
High-profile teams. Tough to get more high-profile than the Giants and the Patriots.
Late drama. Tom Brady, attempting to win on a final drive.
Historic performances. From Brady and Eli Manning, actually.
Memorable oddities. Pretty much all the way through, starting with a Tom Brady intentional grounding safety and ending with that crazy Bradshaw play.
Late touchdown. This was the fourth time in Super Bowl history the winning touchdown was scored in the final minute.
Schadenfreude. Any time Bill Belichick and Tom Brady lose, it's a memorable night.
AGAINST
No franchise breakthrough. Both teams were going for their fourth Super Bowl and had won one fairly recently.
Ugly final play. A hail Mary can't compare with a Mike Jones tackle of Kevin Dyson.
That weird Bradshaw touchdown. No matter how hard NFL Films tries, it's difficult to get people fired up over ambivalence.
Outsize victor personalities. Eli isn't even the most high-profile quarterback in his own family, or maybe even city. (Still.)
No emotional underpinnings. U2 playing at halftime, for example.
Definitive play, but not THAT definitive. You'll remember Montana's final drive, the Dyson tackle, the Vinatieri field goal, the Tyree catch, longer than you'll remember the Bradshaw touchdown. (If you're not a Giants fan, anyway.)
All-time dominant team. The Giants were outscored during the regular season; they won't be immortalized as one of the most memorable teams of all-time. Though this has definitely been a memorable month-plus.
No goat. You'll remember Scott Norwood forever.
So, what's our verdict? We'll put it above that New England–Carolina game and on a par with the Pittsburgh-Arizona game … but that's probably as far as we can go. We don't think it's better than the last Giants-Patriots game. But it's damned close. We're dubbing it the sixth best Super Bowl of all-time. The Giants now have three of those top six. That's being a fortunate sports fan.