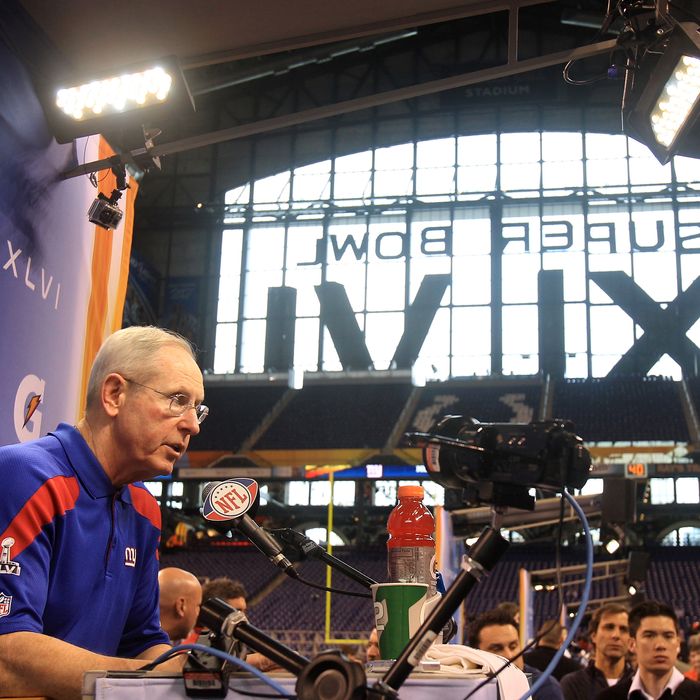 Tom Coughlin at Media Day earlier this week.
All right, folks, the big day is almost here. No more looking back at the last Giants-Patriots game, or at all the previous Giants Super Bowl appearances. No more talk about mayoral bets, or host cities, or the lack of pep rallies. Super Bowl XLVI is just two days away now. Will's PlayStation 3 is picking the Giants, which would mean Eli Manning would establish himself as Tom Brady's tormentor. Will, meanwhile, is picking the Pats. But what happened this week that didn't involve an expectation of victory?
The Knicks beat the Pistons, then lost to the Bulls.
The Rangers lost to the Devils in a shoot-out, then beat Buffalo in a shoot-out.
Marian Gaborik won the NHL All-Star Game MVP.
Brandon Jacobs said he doesn't think Plaxico Burress will be back with the Jets.
Mike and the Mad Dog reunited for fifteen minutes.
And Tyson Chandler again topped our Knicks Power Rankings.
That's it for now, but Will's off to Indianapolis this weekend, and he'll be here with a (hopefully happy) recap after the game Sunday. Have a great weekend, and enjoy the game, everyone.