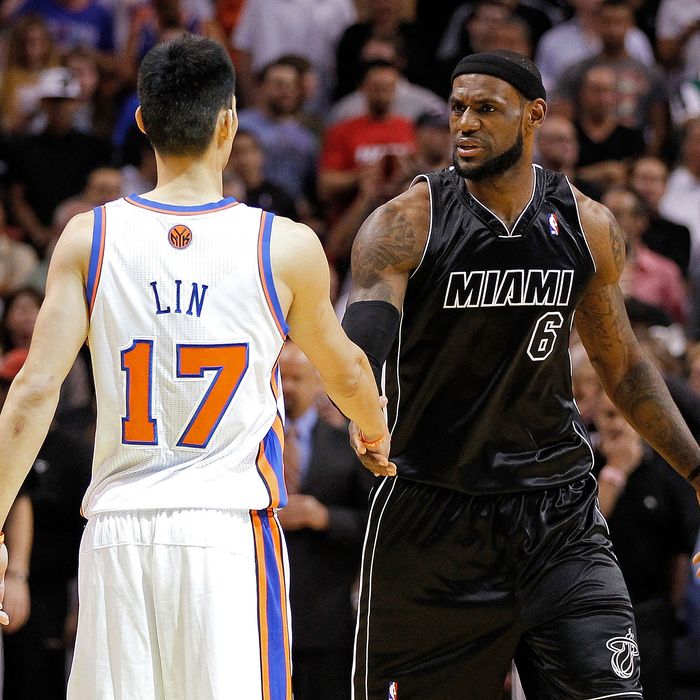 Jeremy Lin and LeBron James.
It was a bit of a mixed week for the Knicks: They beat the defending champion Mavericks on Sunday, lost to Deron Williams and the Nets on Monday, cruised in a victory over Atlanta on Wednesday, then fell in Miami last night. But Jeremy Lin appeared on the cover of Sports Illustrated for the second consecutive week (He's the first athlete to accomplish this since Dirk Nowitzki in 2011.) He also topped our Knicks Power Rankings for the second straight week. (He's the first athlete to accomplish this since, er, Tyson Chandler in 2012.) The NBA All-Star Game is this weekend, so the Knicks are off now until Wednesday. But what happened this week that didn't involve anniversaries?
The Rangers beat Columbus on Sunday, then lost in Pittsburgh on Tuesday.
Mariano Rivera announced that he knows whether he'll retire at the end of the season, but that he's not telling. Derek Jeter knows Rivera's plans, but he's not telling, either.
The Yankees signed Raul Ibanez, and we wondered what his John Sterling home-run call will be.
The Rick Nash Watch continued. But should the Dustin Brown Watch be called off?
And Dwight Howard visited Newark to play the Nets.
That's it for us. Have a great weekend.