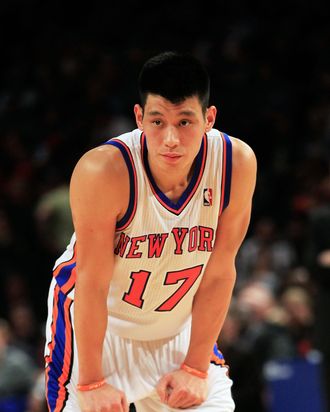 It's been quite the week for Jeremy Lin. The cover of Sports Illustrated. An invitation to All-Star Weekend. An MSG viewing party at which fans posed for pictures next to a cardboard cutout of him. (And, of course, a spot atop our Knicks Power Rankings.) On the court, he drained the game-winning shot in Toronto on Tuesday, then got to rest for much of the second half in a blowout of Sacramento on Wednesday. The Knicks have now won seven in a row — and they've got four more games left on their current homestand. (The big question heading into this weekend: What happens when Carmelo Anthony returns on Sunday?) Less than a month ago, Lin suited up in a D-League game. Now Knicks fans have all sorts of reasons to be psyched about him. But what happened this week that didn't involve questionable puns?
The first-place Rangers beat the Bruins, then lost to the Blackhawks.
Hall of Famer Gary Carter died at the age of 57.
A.J. Burnett appeared headed for Pittsburgh.
J.R. Smith announced he'll be a Knick.
We looked at the world of competitive yoga.
We made the case against a blockbuster Rangers trade.
And we looked at the many hockey references of 30 Rock.
That's it for us. Have a great weekend.