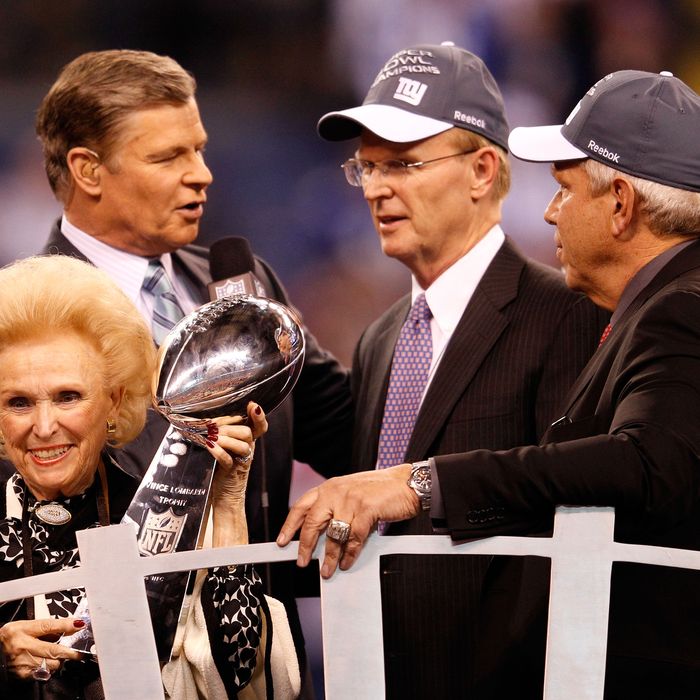 "But that appears to be the best-case scenario again: Sneaking into the playoffs as a Wild Card team, and, despite their underdog status, getting hot and going on a run. It worked for them once, but that's awfully hard to repeat."
We wrote that about the Giants on August 12 of last year, and we'll be damned if something pretty close to that scenario didn't play out. The Giants, of course, didn't make the playoffs as a Wild Card this season — the Eagles turned out to be something less than a Dream Team — but they clinched their playoff berth in Week 17, entered the postseason with some momentum, and simply won out. It's that last part — the winning out — that's so difficult. And yet, here we are. It's rather exciting, isn't it?
We can remember sitting in MetLife Stadium during the Week 11 loss to the Eagles and wondering whether this team was good enough to even make the postseason. And that wasn't even rock bottom: Eight days later, they'd lose by 25 points in New Orleans. Three weeks after that, they'd lose to Washington to fall to 7–7 — and then they wouldn't lose again. But what's really crazy is how familiar it all felt: The upsets, the wild finish to the Super Bowl, the feeling that all of this kind of came out of nowhere. Safe to say, these are not things that are supposed to feel familiar. What a time it is to be a Giants fan: We got to see a once-in-a-lifetime kind of Super Bowl run twice in five seasons.
We were thinking last night about what the turning point of this season was. Was it the victory in Dallas in Week 14, the one that snapped a four-game losing streak? Or was it simply hanging with the mighty Packers the week before, even in defeat? Or was it later than that, when they bounced back from a discouraging loss to Washington to beat the Jets on Christmas Eve? Then we realized: It doesn't really matter, at least not today. For months, everything this team did either gave us reason to be encouraged about what it could accomplish, or gave us reason to worry that this wouldn't be their year. (That's true for any sports team, we suppose, but this Giants team was especially frustrating to follow, with all the ups and downs.) But there's no reason to worry about the 2011 Giants anymore. No matter how many times we watch that final desperate Tom Brady pass — and we expect we'll see it many more times over the next few days — Rob Gronkowski isn't going to get his hands underneath the ball before it hits the ground.
We won't speak for all Giants fans, but a game like last night's can be torture to watch. We didn't exhale until the final Hail Mary pass failed, and we're sure we're not alone. But it's worth it not just for the burst of joy when the game ends, but for what comes next: The high-fives from strangers on the street, or the silent "we did it!" looks that anyone who's worn a Giants hat in public since last night has become familiar with. It's also the way the Giants will be the talk of the town for the next few days: We're already excited to see if any players show up at tonight's Knicks game, so they can get the standing ovation they deserve. Then there's the commemorative newspapers, and the inevitable talk-show appearances from the players (Eli Manning's on Letterman tonight), and of course, tomorrow's parade. After a month of being nervous that this ride could end at any minute, there's a lot of celebrating left to be done.