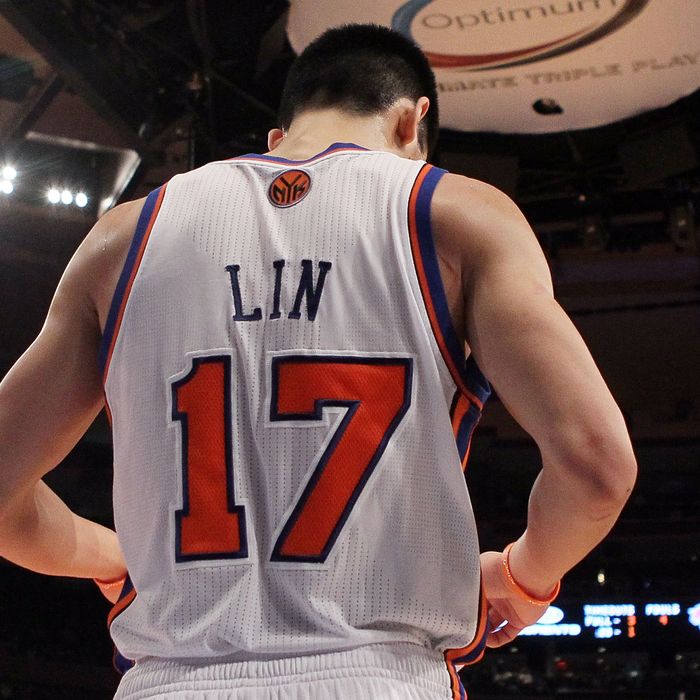 We're counting on ya, kid.
Let there be no doubt: This Knicks season is probably over already were it not for Jeremy Lin. When Mike D'Antoni sent him in against the Nets on February 4, the Knicks were 8-15. Amar'e Stoudemire's brother was about to be killed in a car accident, costing him more than a week and surely weighing him down when he returned. (It would weigh us down.) Carmelo Anthony was about to suffer an injury that would put him out of the lineup for two weeks. Baron Davis wouldn't be ready for another two weeks either. The Knicks were at their absolute nadir – we chronicled this unique moment in Knicks history right here – and then Jeremy Lin came from nowhere to save them. This has all been well-documented. Now the Knicks are a game under .500, with one of the deepest teams in the league, with a chance for a series second-half run. But what's next for Lin?
On March 17, the Knicks will play the Indiana Pacers in Indianapolis, the second game of a back-to-back with one of the teams they're chasing in the Eastern Conference. Barring injury, this will be the 31st game played by Jeremy Lin this season, which would make the most games he has ever played in a season. (He sneaked in 29 for the Warriors last year and started 30 once for Harvard. You can check out all his Harvard stats here.) After that game, the Knicks have more than a month still of regular season, with (presumably) the playoffs after that. The focus of every opposing defense will be specifically to stop him. Jeremy Lin is going to be pushing himself physically in a way he's never even approached in his life. We really do hope he's getting lots of sleep this week.
This has begged the question: Now that Lin has invigorated the Knicks — brought them back to life, really — will he take a step back at some point? Veteran basketball writer Chris Sheridan wrote Sunday that he expects at some point, "you have to believe Mike D'Antoni will take the keys away from Jeremy Lin and let Baron Davis drive the bus." That seems a bit strong for a guy to whom Carmelo Anthony and Amar'e Stoudemire have basically ceded control of the team to over the last week, but we're sort of in uncharted terrain here. Is Lin going to be the Knicks' point guard for years to come? Or did he arrive at just the right time, catching lightning (and some poor defenses) before regressing back to his natural level of "better-than-anyone-could-have-realized backup point guard?"
It might seem a strange question to ask about a guy who was just on the cover of Sports Illustrated twice, but nothing about the Lin story has made much sense, which is one of the reasons it has been so fun. But Lin, for all his excitement, still is inexperienced, still has trouble dribbling to his left and still turns the ball over at a rate that's shockingly high even for a point guard in a Mike D'Antoni offense. Considering Lin's amazing ascension, it seems specious to doubt him and his ability to adapt. But know that to keep this going – with defenses throwing everything they have at him, with opponents gearing up for him and his team every time they come in town – would actually be a more impressive achievement than everything he has done so far.
Lin's emergence changed everything for the Knicks, so even if he does come back to earth, he has already proven to be worth his weight in precious metals. If he can take the next step, though – if it turns out he actually is an All-Star caliber point guard, like he has played every game other than the Heat one – the Jeremy Lin story is going to be even more incredible than it already is, or anyone could have imagined. He's already given Knicks fans everything. Now we need him to give us some more.