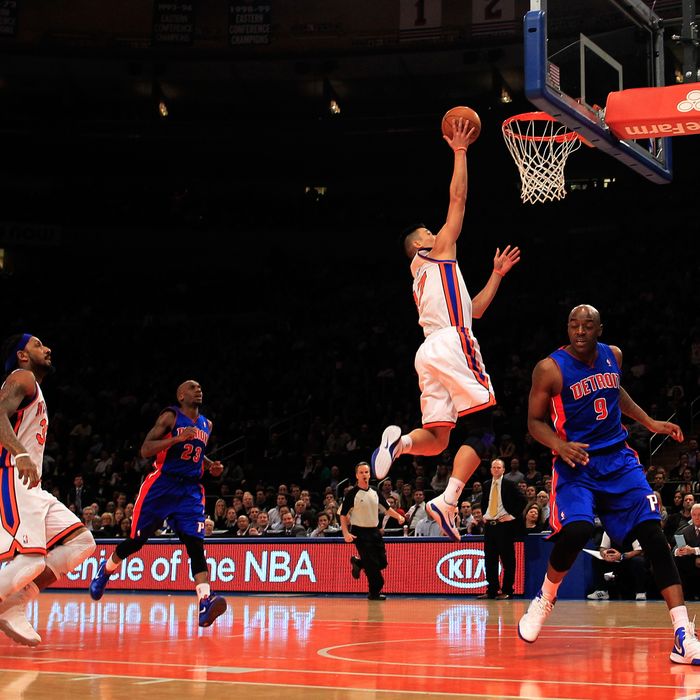 Until Monday, the Knicks had planned on bringing two of last year's ten All-Star game starters into Washington to play the Wizards tonight. Now, thanks to a strained groin and a family tragedy, they'll be bringing neither. And the tickets for the game have become more expensive. Witness the power of Jeremy Lin.
Yep, the whole basketball world is agog with Linsanity after Lin's two consecutive jaw-dropping performances, particularly the one against Utah, a quality team he had to face without both Anthony and Stoudemire. Let us not forget that Lin ran the cleanest offense the Knicks have had all season, with his primary scoring options being Jared Jeffries and Steve Novak. And it came at a time when the Knicks desperately needed a win. We hope he's used to that, because the Knicks desperately need some more.
Anthony is going to be out "1-2 weeks," and Stoudemire's return won't come until Monday. So Lin essentially has to do what he did against the Jazz against tonight against the Wizards. Because the Knicks absolutely cannot afford a loss to the Wizards.
Thanks to the Suns' win at Milwaukee last night, the Knicks are only a half-game out of the eighth playoff spot — and a first-round game against the Bulls, wee! — but that number doesn't tell the whole story. The Knicks have already frittered away an easy start to the schedule, and the Bucks have a less treacherous road the rest of the way (along with three more games against the Knicks). This is why the Bucks have a 65.2 percent chance of making the playoffs in John Hollinger's Playoff Odds Report, and the Knicks are only at 38.8. The trick to getting that number up is winning games you're not supposed to and, mostly, not losing games you're expected to. The Playoff Odds don't know the Knicks don't have Carmelo and Amar'e tonight; they just know that the Wizards are 5–20.
As giddy as the Jeremy Lin story is, with the Knicks facing the Lakers at home and the Timberwolves on the road this weekend (two very possible losses), they need a win tonight. Every game, from here on out, is of vital importance. So the Knicks shall rely on a D-League veteran to play 48 minutes again. The sad thing — and the sort of awesome thing, really — is that this is the best plan they have.
By the way, since you'll see so much of the matchup tonight … let us never forget the epic Jeremy Lin–John Wall summer league matchup from their rookie years. Lin dunked!