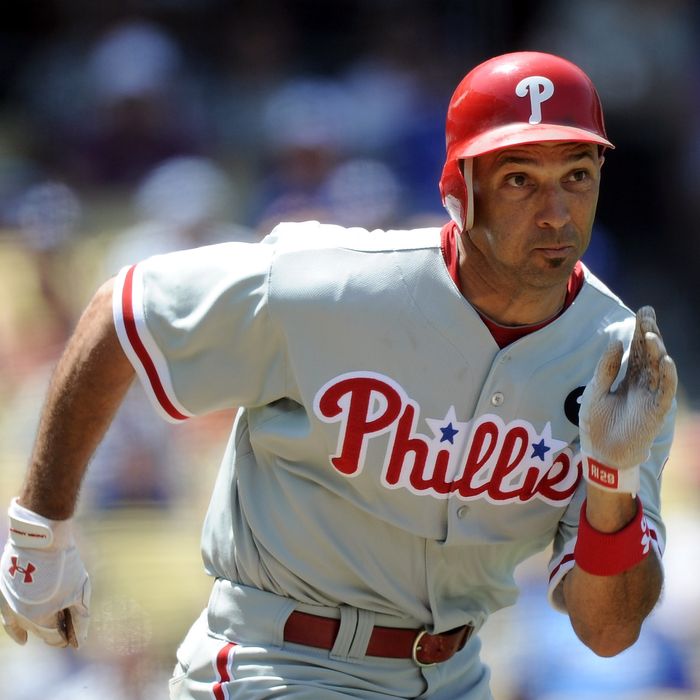 The Yankees' lineup won't have many new faces next season, so we fully expect John Sterling to focus all his catchphrase energy on coming up with a solid Raul Ibanez home-run call, so as to avoid the "Jesus is loose" debacle of 2011. So what will Sterling's catchphrase be? We consulted our guide to the seven types of John Sterling catchphrases, and based on our many years of John Sterling scholarship, we think he's most likely to use either a catchphrase from Category 1 (rhymes), Category 3 (alliteration), or maybe Category 5 (cultural references).
Ibanez's name isn't quite as easy to work with as, say, Curtis Granderson's. (The possibilities there were endless.) So he might settle for a rhyme in this case. ("Raul rules!" perhaps? Or maybe "Raul fuels the Yankees!"?) When a good rhyme can't be found, he'll try alliteration. Our money is actually on something boring like "Raul ropes one!"
Of course, Sterling loves to work in a cultural reference whenever possible. A search on the Internet Broadway Database comes up with two stage characters named Raul: One in the show Beyond, which ran for sixteen performances in 1925, and one in Does a Tiger Wear a Necktie?, which had 39 performances in 1969. But neither was a musical, so there's no opportunity for Broadway aficionado Sterling to work in a lyric. There's also the possibility that he'd try to force Ibanez's name into a title of a work. When we e-mailed Team Sports Section for ideas last night, we only got one such suggestion, from Seth: "Legends of the Guardians: The Owls of Raul."
Feel free to leave your own suggestions in the comments.