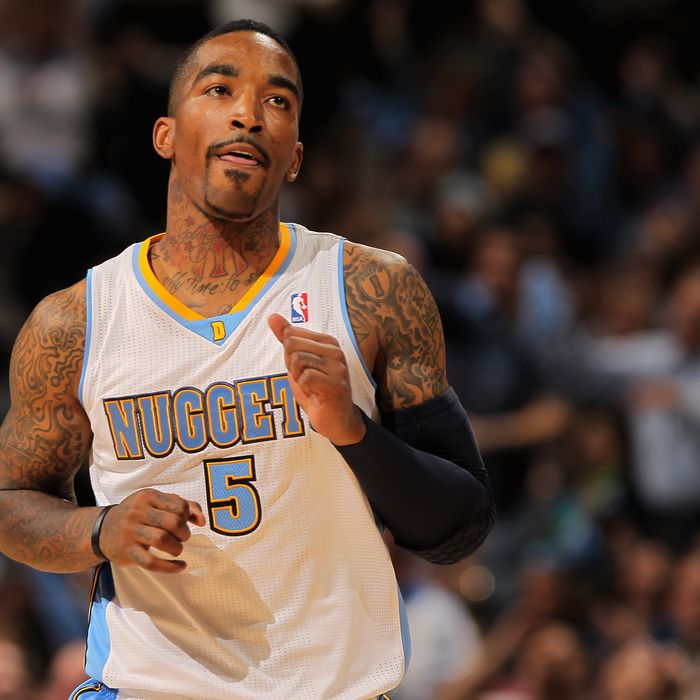 Seriously: LOTS of tattoos.
The Knicks had a much-needed, much appreciated day off yesterday, and it of course wasn't a day off at all. This is one of the many byproducts of the lockout and the compressed schedule; a day like yesterday, on which the team doesn't have to travel, practice, or play a game, is extremely rare. But because we're still a nation (planet, really) gripped in the deathlock of Linsanity, the Knicks still had all sorts of activity yesterday. It's probably gonna stay this busy. This is turning into quite the season.
The biggest news of yesterday involved the almost-signing of J.R. Smith, the Nuggets sharpshooter and person whom budding tattooists use to practice their craft, apparently. (Seriously: Look at this guy.) The signing hasn't been completed yet, mostly because the Knicks haven't 100 percent figured out whom they're going to cut yet, but Smith will receive the $2.5 million exemption. (Smith has confirmed it's the Knicks, though.) It's most likely the Knicks will drop Renaldo Balkman, though they did also consider buying out Toney Douglas, which, man, what a bad month that guy's had. If the Knicks cut Balkman, we will officially have left the "trying to free up salary cap space" period of Knicks history: Balkman would have saved the Knicks $1.67 million if they had found a way to trade him, but with the Tyson Chandler signing and Linsanity in full bloom, the Knicks aren't even bothering with that anymore. It's win-now time.
(By the way: Balkman is the fourth highest-paid player on the Knicks, behind the Big Three superstars. Kind of amazing.)
Anyway, Smith is on the team for two reasons. One, he's buddies with Carmelo Anthony. Two, he can shoot the three-pointer, including a 39 percent rate last season and as high as 41 percent two years ago. With the Knicks, there's reason to believe that percentage could go up, considering shooting three-pointers would be essentially the only thing he would be asked to do. Sure, the Knicks already have a guy who does that (Steve Novak) and better (45.7) percent and more cheaply (for $1 million), but you can never have enough shooters in a D'Antoni offense. Still, he's erratic and sometimes of bit of a black hole when you give him the ball. One would assume the Knicks wouldn't sign him if he weren't onboard with the program. But seriously, J.R.: You're only here to shoot three-pointers. Nothing else! Got it?
For the record, this makes the Knicks an awfully deep team all of a sudden. By the end of the year, when Baron Davis presumably returns, you're looking at:
STARTERS
Jeremy Lin
Landry Fields
Carmelo Anthony
Amar'e Stoudemire
Tyson Chandler
BENCH
Baron Davis
J.R. Smith
Iman Shumpert
Jared Jeffries
Bill Walker
Josh Harrellson
Steve Novak
Not too shabby, right?
In other Knicks news yesterday, absolutely no one took our advice to let Jeremy Lin sit out All-Star Weekend. He's apparently doing everything now. He'll be in that weird shooting competition with a Liberty player and a Knicks "legend"; he'll be some sort of prop for Iman Shumpert in the Slam Dunk Contest; and now he'll be in the rookie-sophomore game after all. On TNT last night, Shaquille O'Neal and Charles Barkley "drafted" their squads and, unfortunately, Lin will be playing for Shaq. His teammates include Blake Griffin (!!), Ricky Rubio, Kemba Walker, and our own Landry Fields. (Barkley actually passed on Lin when he had the chance.) That game will be Friday night, a week from tonight.
So now Lin will be featured both Friday and Saturday nights and won't get any rest at all. And there's still a fear Shump will accidentally land on his head after missing a dunk. Great.
And your last piece of news: Contrary to initial reports, Carmelo Anthony will not make his return from injury tonight against New Orleans. He'll take a couple more days and re-debut on Sunday, in the nationally televised game against Dallas. So Carmelo's introduction to Linsanity will come with everyone watching, against the defending champ. Well, if that's what you want, Carmelo.
To wrap all this up: Jeremy Lin had dinner at Del Frisco's with Landry Fields last night.