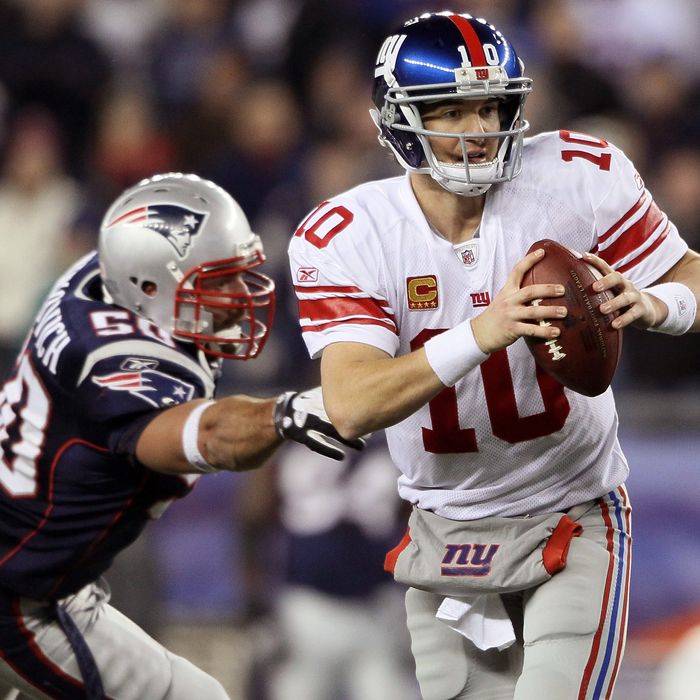 The fun thing about the Giants is they are so unlikely. This is not precisely the same thing as saying they are perpetual "underdogs," because at this point, they're probably not, or they are, but just barely. (You can tell no one thinks the Giants are truly underdogs because pundits are all over the Giants for their "us against the world" mentality, as if the Giants are somehow being disingenuous. Note to everybody: Every sports team, ever, has had an "us against the world" mentality. It's sorta part of being a team.) No, what's fun about the Giants is that their appearance in the Super Bowl — their two Super Bowls in four years — seems inevitable only in retrospect. During that loss to Washington on December 18, the Giants looked like a team that was near collapse. Now it just feels like part of the backstory. In a lot of ways, it all feels like backstory at this point.
The Giants, in a nice touch, have a more balanced team than the Patriots do. Neither team's running game is all that exemplary — though the Giants' is probably better — and the Giants' defense is decidedly superior. It is not as if the Patriots have come roaring into the Super Bowl. They only beat one team that finished the season with a winning record all year, and that was Baltimore in the AFC Championship Game. In case you've already forgotten (it was two weeks ago, after all), the Patriots nearly lost that game, and probably should have. Joe Flacco had one of the best games of his career and darned near brought the Ravens all the way back; he would have, had it not been for that rascally kicker. The Pats defense is weak. And Eli Manning is a heckuva lot better than Joe Flacco.
Las Vegas currently has the Patriots as three-point favorites, but that line is certainly going to go down; there's just a general sense that the Giants are better, are hotter, than the Patriots are right now. And why wouldn't there be? The Giants have the better defense, an offense that's humming at an optimum level right now, and have essentially played five terrific, must-win games in a row. (Every game since the Washington loss, actually.) And they have a quarterback who is going a long way toward convincing people that they've been wrong about him, forever, all this time. There are legitimate stories about whether or not Eli Manning will be a Hall of Famer if the Giants win this game. We love Eli, but seriously? We've spent most of this year having a dumb debate as to whether or not he's "elite." One hot month, and he's a Hall of Famer. The postseason is all that matters, one supposes.
In fact, the Giants have so many advantages that it makes us nervous. More accurate, it's like an old late-in-career George Foreman fight, when you knew he didn't have the skills, speed, or stamina of his opponent, but he had the only weapon he needed: the knockout punch. The other boxer's smaller advantages paled in comparison to his big one. Which brings us to Tom Brady. Brady has been so good for so long now that it can almost get lost in everything else, so consistent and dominant that it feels rote. (Peyton Manning, who has been doing it even longer, had the same "problem.") This has been another brilliant season, in many ways his best; he threw for more yards than any other time in his career, and even though he didn't have the ridiculous TD-INT ratio he did last year, he's been somehow more explosive.
And this year, the Patriots are not heading into the Super Bowl waiting for a coronation, like four years ago. This is a team that had fallen back and has returned, a team that's hungry for a fourth ring. Brady can tie Terry Bradshaw and Joe Montana with a fourth Super Bowl this year, at the age of 34. (Montana was 34 when he got his fourth and last ring; Bradshaw, amazingly, was 32.) There has not been a Tom Brady hero moment for a few years. We think he is due for one, and we think this is when it happens. A thrilling Giants season falls just short. Patriots 31, Giants 27.