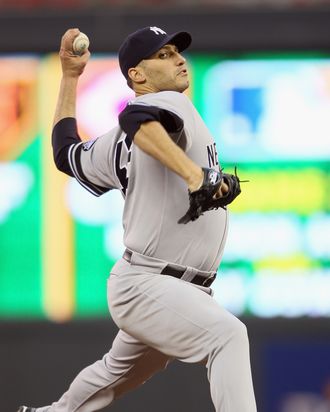 When Andy Pettitte announced his retirement last February, he said that he was absolutely sure he wouldn't pitch in 2011 but didn't totally rule out pitching again some time in the future. (He used the phrase "You can never say never" at one point.) And so here we are, thirteen months later: The Yankees just announced that they've signed Pettitte to a minor-league deal, one that's worth a reported $2.5 million for one year, and comes with an invitation to Major League spring training. Wow.
Pettitte had appeared at Yankees camp as a special instructor this spring, and via the Star-Ledger, had admitted that being around the Yankees might tempt him to come back. And so it appears that temptation was pretty strong. There's no shortage of questions now: For starters, what does Pettitte have left? He'd pitched well in 2010 when he was able to take the ball — he went 11-3 with a 3.28 ERA and made the All-Star team — but he also missed time with a groin injury. And of course, he hasn't pitched in over a year.
If he's going to make it back to the majors — and it's hard to believe the Yankees would sign him if they didn't expect he could — what does this mean for the Yankees' rotation? It gives them seven options for five spots. And if four of those spots were already set (even if Joe Girardi wouldn't say as much), did the Yankees just add the fifth and final arm to their rotation? (And if so — if Pettitte does make it onto the big-league roster and into the rotation — what does that mean for Freddy Garcia and Phil Hughes?)
And exactly when would be Pettitte join the team? This signing comes nearly month after pitchers and catchers reported, and to repeat, he hasn't pitched in a game situation in more than a year. We'd be surprised if he was ready for opening day.
So. Andy Pettitte is back pitching for the Yankees organization, and even with what Pettitte said when he announced his retirement about never saying never, that's a pretty stunning piece of news. Spring training just got a whole lot more interesting.