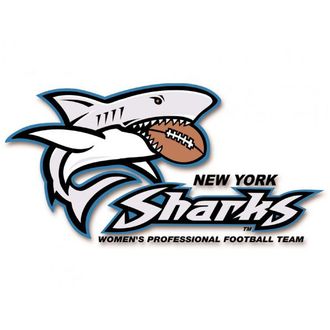 Spring is here. The weather is getting warmer, flowers are blooming, and, of course, women's tackle football season will soon commence. Obviously.
The New York Sharks have been playing full-contact football for more than a decade, and they're in the midst of training camp right now. They'll open their next Women's Football Alliance season at the Boston Militia on April 14, with their first home game at Floyd Bennett Field in Brooklyn on May 5 against the Philadelphia Liberty Belles. It is on, as they say. 
For Andra Douglas, the team's owner and a former player, it all started with a phone call. Back in 1999, the Sharks were a flag football team. A representative from two tackle squads from Minnesota, who'd been barnstorming the country, rang. "[They] challenged us and said they would send pads and helmets and furnish a coach," explains Douglas. "We were all extremely excited to play what we considered real football."
The Sharks won their inaugural game 12–6, and the next year they were invited to join the Women's Professional Football League. In those days, the women were supposed to be paid $100 a game. Unfortunately, says Douglas, the "crooks" in charge never came through and left teams with bills instead. Today, each Shark pays about $850 per season to cover travel, equipment, and other expenses, and they play in relative anonymity — practicing two to three times a week and taking long bus trips to play opponents in Boston, D.C., Maine, and Philadelphia.
Douglas believes her team would be a hit with the public if they could score a television contract. "To me," she says, "it's HBO meets ESPN. The stories are incredible. The women, their heart, their families — it's the human-interest story that's phenomenal." The only women's football on TV, though, is the Lingerie Football League, played in NBA arenas and on MTV2, and it's a sore subject with the Sharks' gridders. Says lineman Sarah Schkeeper, "I have serious issues with the fact that we are being degraded in such a way that … women's football can [only] be televised if we're in our underwear." Quarterback Karen Mulligan's concerns go beyond feminism. "I don't think I want to see my linemen in little skimpy pants," she says. Schkeeper thinks the Sharks offer greater entertainment than the thrill of frilly undergarments. "We have girls who really enjoy knocking someone out."
Defensive end Veronica Simmons is one such girl. Before knocking women out on the field, she did so in the ring as a boxer. "I was 15–0 with eleven knockouts as an amateur," says Simmons, who works as a corrections officer by day. "People were very afraid to fight me, all the way to the professional ranks, including Laila Ali and Jacqui Frazier. I called them out. I could never get a fight with them, because I was better." With no more willing victims in boxing, Simmons turned her "rage" on quarterbacks. Schkeeper, an architecture grad who designs wallpaper for a living, says sometimes the bumps and bruises of football don't translate to the social and professional worlds: "I've gotten some looks from people where you know what they're thinking is that I just got beat up by my boyfriend," she says.
The Sharks think they're giving the next generation a better shot. "We get letters all the time," says Mulligan. "It's one girl, two girls that are trying out for the men's high school team." She adds: "We have a girls' camp that introduces them to flag, and they actually started flag football in high schools now in the city."
What happens when those girls move on to tackle? If they're like Simmons, injuries won't be on their minds. Friends don't worry about her well-being on the field: "They want to know who I'm giving bumps and bruises to," she says. "'Who did you knock out today?' 'Who did you knock down?' 'Who did you flatline?'" She smiles. "They know me."