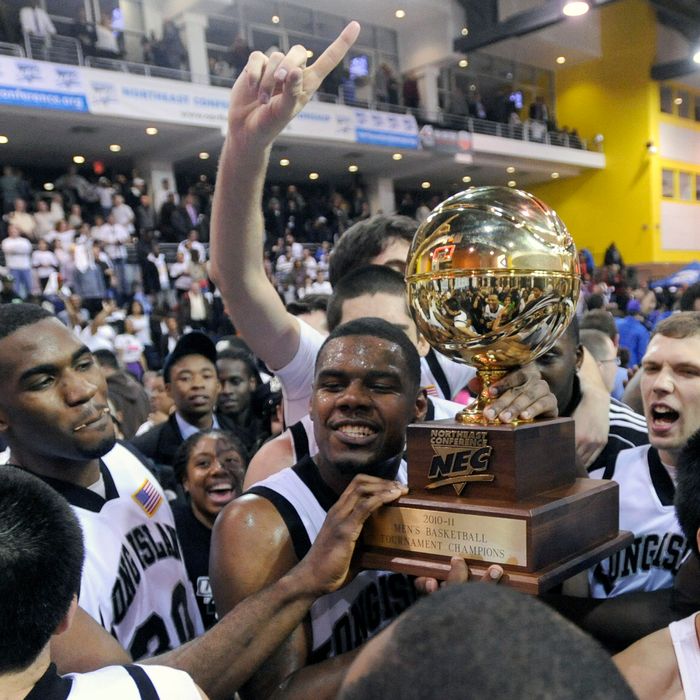 There is one team from New York City in the NCAA Tournament, which begins Thursday (except for the part that starts tonight): The Long Island Blackbirds. If you don't know the Long Island Blackbirds, you should. They're extremely likable. Here are seven factoids about the Blackbirds and their school you should know before you watch them try to pull off the historic upset.
1. Long Island University is a lot more centrally located than you think. It's right here in Brooklyn, right next to the DeKalb Avenue B/Q/R stops and about a five-minute walk from where the Barclays Center, the Nets' new stadium, is being built. (And is almost done, by the way.) It's just down the street from Junior's and a block away from Fort Greene Park.
2. They play at the Wellness, Recreation and Athletic Center, an unwieldy name helpfully shortened to the WRAC. We've visited the place, and it's actually quite nice. It helps that Long Island is so outstanding there. They currently have the second-longest home winning streak in Division I college basketball, behind Kentucky.
3. This is their fifth trip to the NCAA Tournament. They have never won. They have lost to Virginia Commonwealth (1981), Northeastern (1984), Villanova (1997), and North Carolina (2011).
4. They've had 23 players reach the NBA, most recently guard Charles Jones in 2000. Their most famous player in the last couple of decades was Richie Parker, the city player who was convicted of sexual assault in high school and was the subject of this famous Gary Smith article in Sports Illustrated, which might be our favorite piece of sports journalism ever produced.
5. Their best player is Julian Boyd, a junior who averages 17.4 points and 9.5 rebounds a game. He overcame a serious heart ailment after his freshman year and has now led the Blackbirds to two straight tournaments.The second-best player is Jamal Olasewere, another junior.
6. Few teams in college basketball are hotter than Long Island. They've won 20 of their last 22 games and breezed through the Northeast Conference Tournament. In spite of this, they were dropped to a No. 16 seed after last year's No. 15 pairing with UNC.
7. They're coached by Jim Ferry, who emphasizes a fast-paced game. LIU was third in the nation in scoring this year at 81.9 points per game. This could work to their advantage against a Michigan State team used to the plodding pace of the Big Ten. But, as we're all reminded of every year, no No. 16 seed has ever beaten a No. 1 seed.
But have faith! The game tips off at roughly 9:20 p.m. on Friday night. Ya gotta believe!