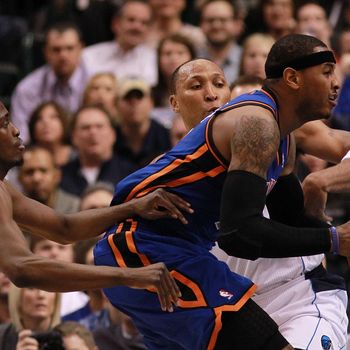 Carmelo Anthony's in a bit of a pickle. When he was injured and "Linsanity" had seized the nation, folks prophesied aloud that Anthony and his selfish, ball-hogging, flow-busting, otter-strangling ways would ruin the great thing Jeremy Lin and the Knicks had going. Melo, who definitely caught wind of that sentiment, has since rejoined the team and done nothing of the sort. He's deferred largely to Lin, looked to score more on cuts and post-ups than isolation plays, and taken a relatively modest number of shots. That departure from expectations, one would suppose, is a result of both Melo not wanting to piss everybody off and just the fact that everybody overstated the guy's selfishness. One thing, though: He's struggled. There have been moments of brilliance, but mostly blown attempts separated by long stretches of nothing. This culminated in a 2-12, six-point performance last night, replete with some on-court boners, murmurs that Melo was pouting about his lack of usage, and a momentary evasion of the media following the loss. So, now we have a different problem.
Instead of "THIS GUY TAKES TOO MANY SHOTS HE'S STEALING THE BALL FROM JEREMY I THINK I SAW HIM PUNT A CHILD," we're hearing "THIS GUY IS A LOSER HE DOESN'T CARE I BET HE PISSES ON THE TOILET SEAT" from fans and media. Of course, there's a grain of truth in the hyperventilation of Knicks fans. Melo, indeed, has made a few poor decisions and looked a little disinterested at times. But he's also just looked like a guy working hard to find himself looks without commandeering the Knick offense, yet unable to finish. He's been pushing and cutting more than ever to get himself easy looks, but just cannot seem to put the ball in the basket. Some of it must be the uncertainty and discomfort that come with a new role (something Lin, Amar'e Stoudemire, and the rest of 'em are all facing). Some of it just looks like a slump. The fact that he's been cold since his wrist and ankle injuries in January (and subsequent groin injury) doesn't help our perception of things.
But, hey, every game is a new opportunity to turn things around. Tonight's game with the rather-dominant Spurs isn't the ripest of opportunities, but it's an opportunity nonetheless. Melo will try to redeem himself any way he can, while Lin will look to get back on track, Amar'e Stoudemire will work to keep last night's solid play going, Tyson Chandler will keep figuring out how to play with that hurt wrist, the bench will try to recover from an off night as a unit, and Iman Shumpert will probably start at shooting guard for the first time. See? This is a learning, adapting process for everybody. Melo's just the face of it.
Tonight's game is the second of a back-to-back, the Knicks' first such test since the All-Star break. I'm almost wondering if that quick turnaround (and possibly the addition of Shump into the first unit) might somehow allow for the Knicks to get off to a better start than they have in the last two or three games. Playing from behind, as they say, is pretty taxing, and New York's been doing a lot of that recently. Tip-off's at 8:30. Ready your caps-lock key.