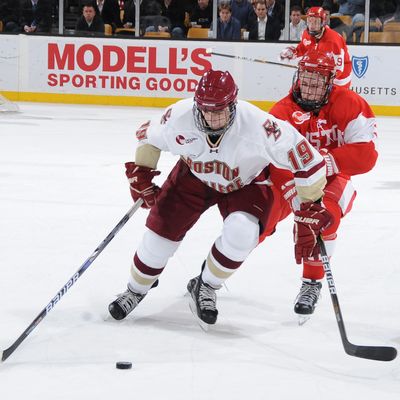 There were two games of interest to the conference-leading Rangers last night. In one, the Penguins topped the Devils, 5-2, to once again pull within a point of the first in the standings. And in the other, the Boston College Eagles shut out Minnesota-Duluth, 4-0, to advance to the NCAA Frozen Four. The latter game, of course, featured highly touted prospect Chris Kreider, who can't join the Rangers until his college season is over. And his college season just got even longer.
There's a break of more than a week between the regional rounds of the NCAA men's hockey tournament and the Frozen Four, meaning that Kreider's Eagles won't be in action again until Thursday, April 5. If Boston College wins its semifinal game, the team would play for the championship on Saturday, April 7, the same day the Rangers finish off the regular season at home against Washington.
Kreider, a junior, hasn't announced whether he'll sign with the Rangers after Boston College's season is over. But Glen Sather has said he "absolutely" expects Kreider to leave school after B.C.'s season comes to an end, and he's also said that Kreider could join the Rangers in time to play this season. (Of course, that was before B.C.'s season was extended for so long.) It's why Rangers fans might have been rooting for Kreider's team to lose last night, potentially allowing him to see a couple weeks of NHL action before the playoffs begin. (The New York Rangers Blog has a post up today entitled "Kreider Headed to Frozen Four … Dammit!")
There's no guarantee that Kreider would be effective in the pros this year even if he had been able to play in a couple of weeks of games during the regular season. He's drawn raves for his combination of size and speed, but it's not easy to simply slide onto an NHL roster and have an impact. That said, Steve Buckley of the Boston Herald recalls the start of Tony Amonte's NHL career: After Amonte's Boston University Terriers lost the national title game, he signed with the Rangers and made his NHL debut in the Stanley Cup Playoffs.
The Rangers play a certain type of system — one that's also taught to players on their AHL affiliate — and have a coach who puts an emphasis on conditioning. So to expect big things from Kreider this season isn't fair. But letting him get a couple weeks of experience and then evaluating things at the end of the regular season would have been nice.