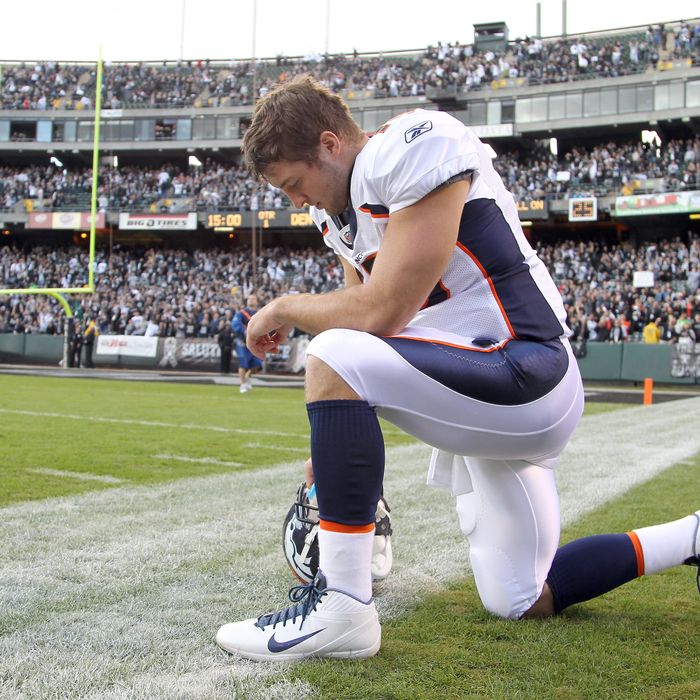 Will Rex give him a wedgie when he does this?
My gangrenous flock, what shall we do about Tim Tebow? (Assuming, of course, the trade to the Jets actually goes through.) Do we turn a blind eye to the crooked wobble that makes his thrown balls even less steady than an NFL player who's just been concussed? Do we put aside our differences on the question of whether he is best as a quarterback, wide receiver, running back, or as a one-man offense encompassing all three? Do we admit that he's far more reliable as a political spokesman than as a football player?
I have searched within myself, and I say we Jets fans welcome him with open arms.
We live in a complicated time. The National Football League is a multi-billion-dollar business, choosing profit over the health of its players. ESPN haunts us on every screen, making us complicit in their commercialized tropes of DEVELOPING STORIES and BREAKING NEWS. The Internet allows us to talk about all this artifice more than ever, which only deepens our attachment to it — a Stockholm Syndrome renewed every Sunday.
In this hyperfocused, hypermedia, hypereverything age, sport is spectacle. And it's not just the games. It's everything leading up to them. The process is the product.
There's nowhere that's more the case than in New York City, the most hyper of the hyped. (Linsanity proved that much.) And within football, there's no team that's more the case for than the Jets, the most hyped of the hyper. Rex Ryan bounces along the sideline like a perverted cherub, dragged up from the hellmouth that rests atop East Rutherford, NJ, urging, exhorting, croaking for his men to fight on, play hard, and eat some goddamned snacks. When Rex Ryan takes the podium, he's not offering a press conference, he's offering a narrative: The Jets are destined for greatness. Any questions? With Ryan, every prediction becomes a promise, every lesson a doctrine.
Ryan and the Jets could ask for no better emblem than Tebow, a man who is all about the story. His first chapter began with an origin myth — an expected stillborn baby born very much alive!— and ended in an NCAA championship. Since he joined the NFL, we've all been watching his sequel.
Tebow might be even worse than Mark Sanchez — a feat that would be more impressive than some of Tebow's last season — but he won't make a worse story. And that's what we watch for, isn't it? For the stories?
The NFL has become no different than a weekly drama. Tune in to find out what happens, then spend the next three days reliving it with friends and colleagues and anonymous online soul mates, and then, for the next three days, kplotz in anticipation of the next episode.
For Jets fans, Tebow is the latest character in our drama. If we regard him as a character — and only a character — how can we hate him? He's dynamic, he's an enigma, and most of all he is unpredictable. His plotline on the field might go sour, but his plotline in the overarching narrative — the on-again, off-again fecklessness of the Jets — has intrigue. He will make us want to watch.
In the end, this is all that cynical Jets fans — and, really, there are no other kinds — can hope for: a little bit of drama. It's almost certain we won't win a championship, so we might as well amuse ourselves in the meantime. Let us find the strength to embrace Tebow. He is not the savior we wanted, but he is the one we deserve.