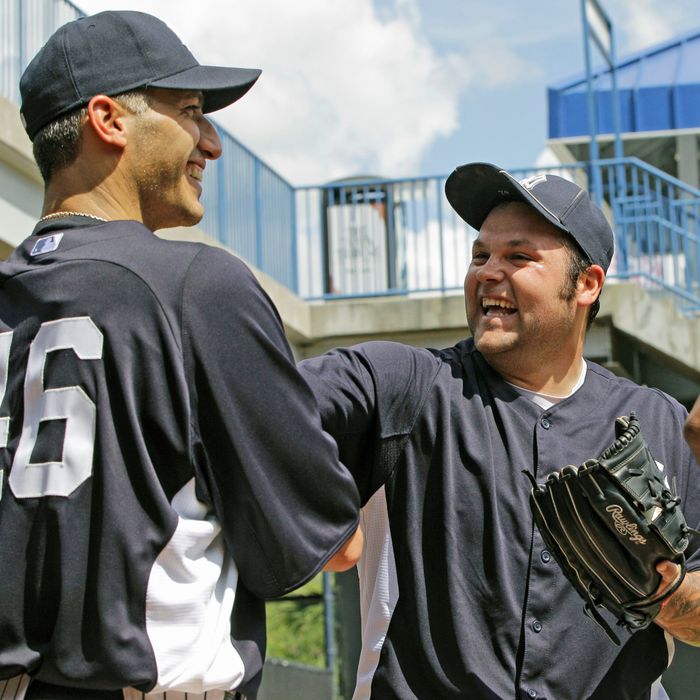 Yep, this picture was taken yesterday.
We spent yesterday in Tampa, working on a story for the magazine. Not enough happened to get a whole full story for you today about it, but we still noticed some stuff. Here are those stuffs.
1. Andy Pettitte walking around the Yankees clubhouse in his uniform. Well, his spring uniform anyway. Everyone knew he was showing up in camp yesterday, but it was still a sight to see him wearing pinstripes again, interacting with everybody. He looks exactly the same as he did the last time you saw him.
2. All sorts of actually retired alums. The best part of Yankees spring training is all the former Yankees who just sort of randomly mill around the clubhouse, taking part in drills, waving hi to everybody. Last time we were here, we saw Yogi Berra, but yesterday it was "only" Reggie Jackson and Tino Martinez. Tino walked into the clubhouse wearing, uh, informal Florida-wear and flip-flops and was drinking a Red Bull. It was jarring.
3. Biff Henderson! Yesterday was the annual "Biff Henderson goes to Yankees Spring Training" segment for the Late Show With David Letterman, so he spent the whole day entertaining everybody. We don't see how, say, Hiroki Kuroda has the slightest idea who Biff Henderson is, but he did appear excited to see him, regardless.
4. A-Rod calling aside Kevin Kernan. The embattled Yankees third baseman was a more relaxed, affable presence than we've usually seen him at camp, giggling and goofing around in a sincere, theoretically un-A-Rod-like fashion. We still couldn't help but chuckle when Rodriguez, in as casual a fashion as he could muster, hollered, "Hey, Kev, you got a sec?" and beckoned over the Post columnist. We didn't hear what they were talking about, but it's a good bet that it had something to do with yet another "Page Six" item running on A-Rod yesterday. We can't imagine having to constantly be the public face of the Post the day after "Page Six" runs stories about Yankees is the most enjoyable aspect of Kernan's job.
5. Real, actual baseball. They played a baseball game last night. The Yankees won! Michael Pineada looked all right! A-Rod had three RBIs! Most important, people in Yankees uniforms ran around the bases and scored runs and threw baseballs yesterday. Baseball is almost here, folks. It's just a couple of weeks now. Your wait is almost over.