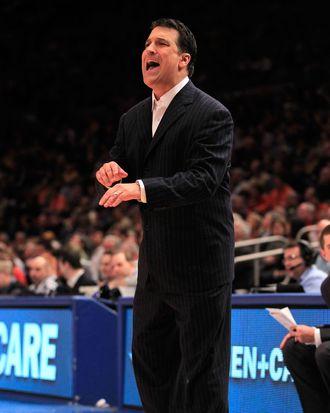 Prior to this season, Steve Lavin and his staff gained commitments from six ESPNU top 100 recruits. One of them was Jakarr Sampson, an athletic 6-foot-7-inch wing who excelled in transition and was perfectly suited for St. John's up-tempo offense. But right before the 2011-12 season started, Sampson was declared academically ineligible, leaving the wing to return to his prep school — Brewster in New Hampshire — for an additional year, and re-opening his recruitment. In an interview with ESPN's Dave Telep, Sampson admitted he decided to explore his options partially because he was angry that he did not qualify.
Recruits rarely re-commit to their original choice, either because they feel their choice was too hasty, or because they've since gained a better option, or because the school continues to recruit their position and playing time becomes an issue. But in a surprise decision, Sampson last night decided to again commit to the Red Storm. It certainly wasn't for lack of options: When Sampson originally chose the Johnnies in the fall of 2010, the Red Storm were competing with Louisville, Baylor and Tennessee for the wing. But this time around, his options were arguably even better: Kansas and Florida were among the schools that intensely pursued him. (A few weeks ago, Sampson told Scout's Evan Daniels that he almost committed to KU after attending a Jayhawks win over Missouri.)
When Sampson announced last September that he would explore other options, Lavin was still deciding how to treat his prostate cancer, which had been diagnosed the year before. In early October, Lavin underwent surgery to treat his the cancer, and he announced in January that he wouldn't return to the bench until he regained his stamina. But Lavin continued to act as something of a general manager for the program, holding coaching meetings and attending some practices. He also he kept recruiting: Along with assistant Tony Chiles, Lavin continued to pursue Sampson after the de-commitment, and even though St. John's was not the most aggressive school in his recruitment — that distinction would go to Providence, whose head coach Ed Cooley was the most visible head coach at Sampson's Brewster games — Sampson eventually chose the Johnnies. (After announcing his decision, Sampson said his prior relationship with the Red Storm's now-sophomore class, a group Sampson had bonded with at AAU camps and at the annual iS8 summer tournament, played a role in his re-commitment.)
Sampson is the perfect type of player for Lavin's squad. His game used to be defined by his athleticism, but after another year of seasoning, he has developed a more consistent jump-shot and is better prepared to immediately contribute offensively next season. "He has consistently gotten better in the past two years," says Adam Finkelstein, who covers the Northeast and prep school recruiting scene for ESPN. On the defensive end, Sampson will seamlessly fit into St. John's match-up zone and will join a long frontline with Sir'Dominic Pointer and Moe Harkless — that is, unless the conference freshman of the year leaves for the NBA.
St. John's next recruiting target, by the way? Christopher Obekpa, a 6-foot-9 shotblocking force and high school teammate of Felix Balamou, who recently committed to the Johnnies. The Red Storm are competing against UConn and Cincinnati (among others) for Obekpa, but his addition would be a boost to the team on the defensive end.