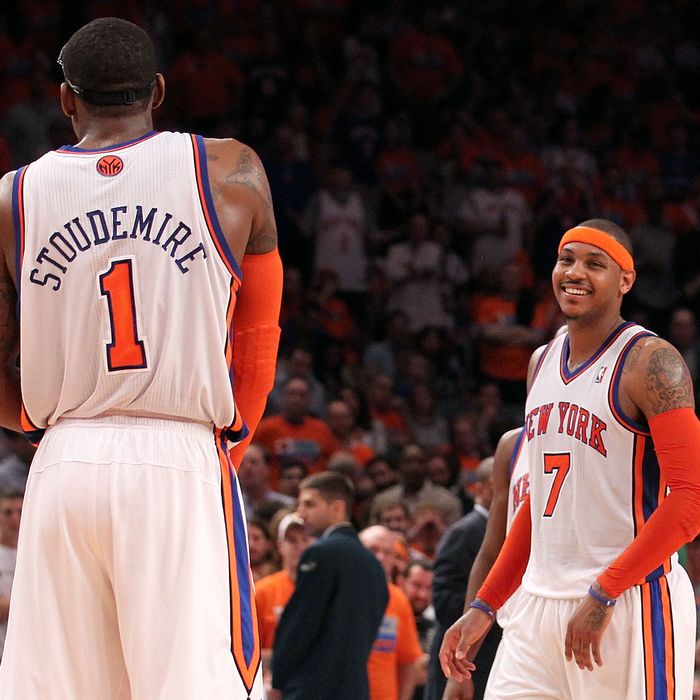 For the umpteenth time this season, the Knicks are in a "trying something new, let's try to get all the parts together" phase. Actually, let's not even leave it at umpteenth. Let's try to figure out how many there have been. 
Here goes.
1. The Still-Feeling-It-Out Period. December 25 –  January 4. A 2-4 start, culminating in a home loss to Charlotte in which the Bobcats — the worst team in the NBA — scored 118 points. "Our defense isn't there yet," says Coach Mike D'Antoni.
2. The Maybe-Tyson-Chandler's-Defense-Means-We-Don't-Need-a-Point-Guard Period. January 5 – January 11. The Knicks win four in a row even though their leading assist man for three of those games is Carmelo Anthony. Culminates in thrilling home win against Atlantic Division–leading Philadelphia 76ers.
3. Nope. We Need a Point Guard. January 12 – January 28. The Knicks lose nine of ten as Toney Douglas, Mike Bibby, and Iman Shumpert flail around wildly at the point while everybody stares at Baron Davis and yells, "Heal faster!"
4. Pride, But No Wins. January 31 – February 3. Shumpert improves slightly at the point, and D-League third-string guard Jeremy Lin plays a few minutes while Toney Douglas bottoms out. The vets rev up their energy for huge games with rivals Chicago and Boston … and lose both in crushing fashion. The Knicks are now 8–15.
5. Linsanity. February 4 – February 19. Lin takes over and saves everybody's jobs and briefly becomes the most popular athlete on earth. With Anthony out with an injury and Stoudemire dealing with the death of his brother, Lin electrifies the NBA and orchestrates the most exciting Knicks stretch in a decade.
6. Working in the Superstars. February 20 – February 29. Carmelo and Amar'e come back, and it's touch-and-go there for a while. There are short flashes of how the stars — particularly Carmelo — might mesh, and wins over Atlanta and Cleveland, but it's still awkward. Everyone says the right things, and the general consensus is that the Knicks, particularly because of a suddenly powerful second unit, just need some time.
7. The Bottom Falls Out. March 4 – March 13. A devastating loss to Boston on a Sunday afternoon begins the collapse. Anthony is visibly frustrated trying to fit into the offense, the defense begins its own implosion (physically manifested in various men blowing right past Amar'e Stoudemire) and Lin begins to regress, partly because Carmelo and Amar'e are floating into his passing lanes and partly because he's 23 and has only played 20 some-odd games in his career. Everything breaks down, anonymous sources start sniping and it culminates in Mike D'Antoni leaving the team hours before a home game against Portland. This is the end.
8. The Post-D'Antoni Era. March 14 – present. And here we are. The Knicks took advantage of a Trail Blazers team in even more disarray than they were on Wednesday night. Now the adjustments come. Interim coach Mike Woodson says he'll focus the offense on Carmelo and Amar'e rather than Jeremy Lin — assuring that, for better or worse, Carmelo would get his way — and that you will likely see a lot more of Baron Davis than Linsanity going forward. The Knicks are tied with the Bucks for the No. 8 seed in the Eastern Conference (and five games behind Philadelphia for the Atlantic Division lead), and how this next era of the 2011–12 season will go, nobody can tell. (It begins tonight at the Garden against Indiana.) But this is now eight eras, through 43 games. This is the eighth different Knicks team this season. At this rate, it wouldn't surprise us if there weren't eight more before it's all over.