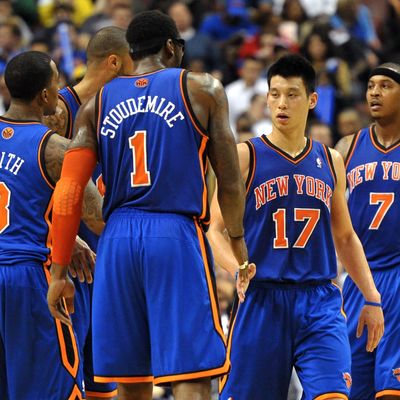 The Knicks are approaching Winningville again.
The Knicks play twice this weekend: once tonight versus the Raptors and then again on Saturday against the Pistons. If they win both, they'll be 25–24, back above the .500 mark. And that should be doable since both of those teams are pretty bad at basketball. That doesn't mean Knicks fans aren't fearing the worst, though. A lot of the proverbial other shoes have dropped this season. New York has crumbled promptly after soaring success and recovered with gusto from swoons that felt borderline apocalyptic. The Knicks had a four-game winning streak and six-game losing streak back-to-back in January. They won seven straight during the "Linsanity" phase of February. They lost their first six games in March and have won five since. In related news, my tummy hurts.
Think of the .500 mark as a tollbooth between the cozy northern hamlet of Winningville and the rundown boondocks of South Sucktown. The Knicks opened the season hoping to settle up north but spent the first few weeks of the year passing back and forth over the border. On January 16th, they crossed back into Sucktown mid-way through that six-game losing streak, and they haven't been back through since. They pulled up to the gate four consecutive times in the final throes of "Linsanity," reaching records of 15–15, 16–16, 17–17, and 18–18, but got turned away repeatedly and rolled backward in the run of losses that would eventually lead to Mike D'Antoni's departure.
Now, at last, the Knicks have Mike Woodson behind the wheel and passengers in every seat and are approaching the gate faster than ever. Only the Raptors and Pistons stand in their way (which, to be fair, would sound pretty scary if those weren't proper nouns), and that Detroit contest is the first of a three-game homestand. All but one of New York's remaining games are against Eastern Conference opponents, many of them New York's neighbors in the standings. If they maintain this momentum or something close to it, New York could pass right through Winningville and into Divisionchampionshipandtopfourplayoffseed Township. Or they could have a U-turn and another southward trajectory in their midst. And then another winning drive after that. I don't know. All I know is I'm carsick.