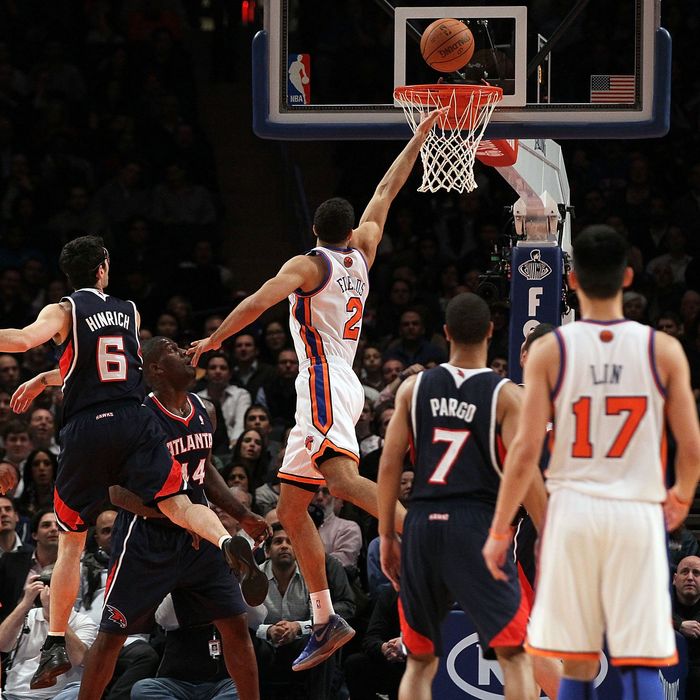 Landry Fields, in a game against Atlanta last month.
There are only fifteen games left in this wacky, ludicrous Knicks season. Fifteen games is nothing. A third of that will be over in a week. In this truncated NBA season, every game has counted in a way most games rarely have before in the NBA. But now they really count. The Knicks have had eight different phases this season, and they'd love for those phases to stop at No. 8, the Mike Woodson Gleeful Honeymoon Phase. If there's a ninth phase, the "Carmelo Decides He Doesn't Want To Play Defense Anymore" Phase — theoretically speaking — the Knicks could be toast.
Fourteen of these final fifteen games are against the Eastern Conference — the only Western Conference game is at home against the Clippers on April 25 — and of those fourteen, nine are against teams that are either going to make the playoffs or will end up fighting the Knicks for the eighth and final spot. Three of those games are against Chicago and Miami, the two far-and-away best teams in the conference. And two of them are against Atlanta, tonight's opponent.
To remind, the Knicks desperately need to get out of the No. 7 and No. 8 spots, to avoid the Bulls or Heat in the first round. The quickest way to do this is finish ahead of Boston and Philadelphia in the Atlantic Division. But another way is to catch up with Atlanta and just one of those two teams; they're three and a half games behind the Hawks right now. So they could make a nice huge step tonight.
The last time the Knicks played the Hawks was February 22, the first win during Linsanity that involved Carmelo Anthony … which is to say, right around the time Linsanity was about to end. (Lin is out again tonight, by the way.) It's strange that the Knicks could potentially have three major rotation pieces tonight that they didn't have that night (Lin, Amar'e Stoudemire, Jared Jeffries) and be perceived to be a better team now than they were then.
But much of that comes down to Mike Woodson, the sudden unlikely superstar of this Phase Eight, the guy who has the Knicks 8-1 in his tenure and who is changing beard culture as we know it. It's undeniable that the Knicks — not just Carmelo, but everybody — are playing harder since Woodson took over, and Jim Cavan of KnickerBlogger detailed just how hard on the Times' Off the Dribble blog this morning. Cavan points out that since Woodson became head coach, the Knicks are among the top ten in the NBA in both offensive and defensive efficiency. They're a different team, across the board. (Imagine how crazy this would all be had the Knicks not lost that silly game at Toronto. We'd be looking at an undefeated Woodson team.)
Tonight, though, is tough, not just because the Hawks are good (even if they're missing Al Horford) but because Woodson has quite the history with these guys: He's the one who took over the Hawks when they were terrible, brought them to respectability and then was fired when the team got tired of listening to him. (This is the NBA. That's how it happens.) There'd be no better revenge than pulling out a win tonight with a team that might be more talented than any of those Hawks teams, a team that just needed the right coach. If the Knicks can win tonight and handle Cleveland and the Garden on Saturday, the Knicks would be three games over .500 heading into a brutal stretch next week (at Indiana, at Orlando, a home-and-home with Chicago, at Milwaukee). Just fifteen games left. There's no breaks at this point.