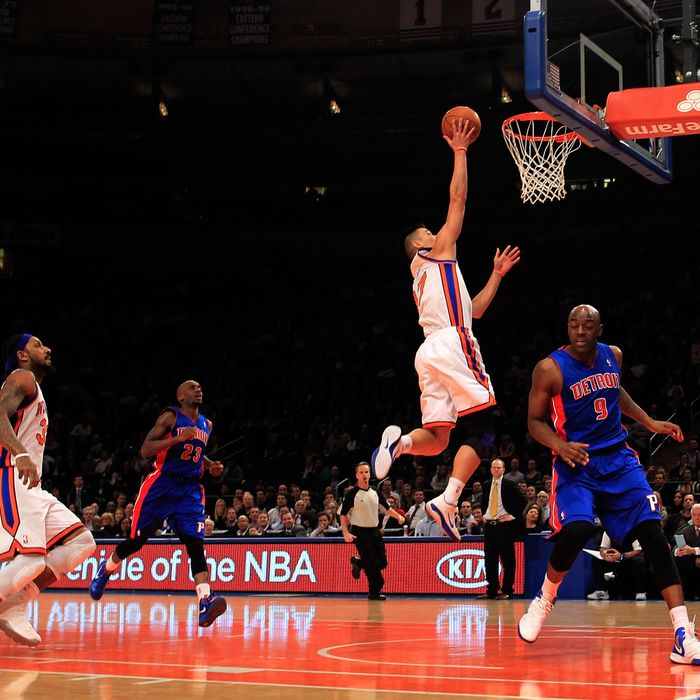 Let's remember happy times, for now.
This might seem a strange thing to say about a team that has lost three in a row and is the source of 73 percent of all angry radio phone calls in the tri-state area, but the Knicks have an excellent opportunity this weekend to pick up two key wins over the exact teams they need to be beating. Of course, they also have a key opportunity to make the freak-outs of the last week look like casual strolls. The Knicks gotta get some wins, that's what we're saying.
Tonight, the Knicks end their four-game road trip in Milwaukee to play the Bucks, a team they've already lost to once and one they play three times in the next month. The Bucks also happen to be the only team with any real chance of catching the Knicks for the No. 8 playoff spot; they're three games behind New York right now and surely see tonight as one of the key games left in their season. As usual, the Knicks will get their opponents' best shot. This is the downside of Linsanity: The Knicks became so high-profile that everyone revs up to play them like they're the Heat when they're not, in fact, the Heat.
But the Knicks have an opportunity to turn it around tonight and give themselves a little breathing room. (They're one-point favorites, by the way. We always forget to check NBA odds.) And if they can guard their rear flank, they can come right back on Selection Sunday and attack from behind: They get the Philadelphia 76ers, the team the Knicks need to catch to secure home-field advantage in the first round of the playoffs (and avoid the Bulls or Heat in the first round), on national television at noon. If you're like us, you're still reeling from that brutal Celtics loss last Sunday, but the Sixers, at home, could be the Listerine Knicks fans desperately need.
Or the Knicks could just lose them both and everybody loses their minds. If that happens, one thing is certain: It will be considered all Carmelo's fault.