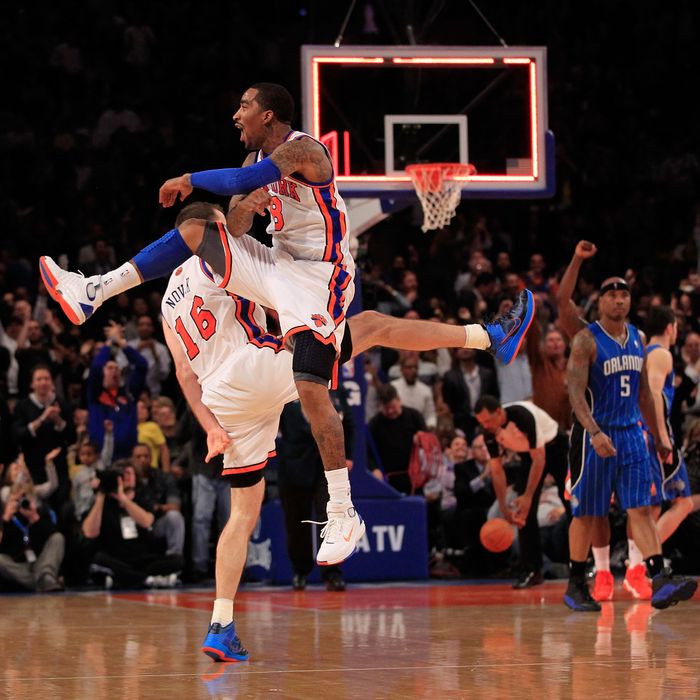 Steve Novak and J.R. Smith.
Let's make one thing clear before we start digging into the details of the Knicks' levitative 108-86 win over the Orlando Magic last night: The Magic looked awfully drowsy. We're not sure what their Tuesday night activities were, but if they avoided the New York City party scene to stay home and drink milk in bed, well, we'd check that milk's expiration date. The Magic were sluggish and dead-legged and clearly not up for any sort of combat — or even a tickle. That's about as bad as the Magic look. Now, that said … [jumps in air] [punches sky] [freeze frame] [roll credits].
Yeah, the Knicks were about as much fun last night as they have been all season, non-Linsanity edition, playing ferocious defense, moving the ball in rhythm, and running up and down the court most of the night as if Orlando's uniforms were, in fact, holographic projections. (Which is possible. We weren't there, and everything about ESPN's graphics makes us feel vaguely like we're in a Tron film.)
For years, Dwight Howard has been terrorizing poor Knicks "centers" like David Lee and Eddy Curry, so it sure was pleasant to see Tyson Chandler (with the aid of efficiently switching help defenders) more than hold his own with him, limiting Howard to just twelve points and five rebounds. But, once again, the key to the Knicks' win was Carmelo Anthony. Anthony's inconsistent application of his own talents is less an annoying tic the Knicks must endure and more a fundamental personality trait, but when he decides he's gonna go all out, like he did last night, it's a giddy (and sometimes sad) reminder of what Carmelo could be if he did this all the time. He was a dervish, attacking the rim, pushing hard on defense, and grabbing rebounds every which way. We're pretty sure now that, after two terrific games (and wins) for Carmelo in a row, he's gonna go all Droopy Dog in at least one of the games this weekend, but last night … last night's what happens when he's on.
But the Knicks — who, we remind, were missing Jeremy Lin, Amar'e Stoudemire, and Jared Jeffries — had all sorts of standouts last night. Iman Shumpert scored a career-high 25 points — including four three-pointers, though he should never, ever take ten of those in a game again — and Steve Novak drained four three-pointers of his own, including this giddy one at the end of the first half (you've gotta watch the full first-half highlights to get to it, which should be okay, since that's nothing but Knicks dominating plays):
It was the sort of night in which eight different Knicks had assists. The Knicks did whatever they wanted and looked like the team we've been imagining they'd be all season. Of course, they did it again with a limited roster, an odd habit for the Knicks this season: It seems the only times they look disjointed are when they have everybody on hand to work in.
But let us not gripe after a loopy win like this one. The Knicks have at last made it over the .500 mark again, and they remain two and a half games behind both the 76ers and the Celtics for the Atlantic Division lead. They're building some space between them and the Bucks. And, most of all, they're keeping this Mike Woodson-coached honeymoon period rolling; they're 8-1 now since the thick-bearded one took over. They have two games this weekend, on the road against Woodson's old pals in Atlanta and at home against Cleveland. A split looks likely, but if they can figure out a way to win them both, this thing could get soaring. (Or it could thud with some terrifying games next week: at Indiana, at Orlando, home against Chicago.) No matter what, last night was a season highlight for the Knicks, almost certainly the most fun win they've had since the height of Linsanity. We're sure we'll all be banging our heads against the wall after they beat Atlanta and then Carmelo sleepwalks through a home loss to the Cavs — because that's absolutely the way something like this would go down this year — but for now, we'll just try to hang on to what it looks like when everything is rolling, like right now.