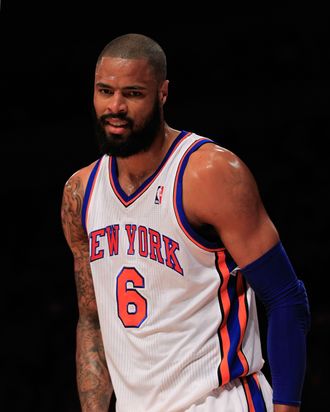 Tyson Chandler will receive his championship ring tonight.
The Knicks' four-game road trip hits a big-ass speed bump today and tomorrow, when they'll have to face the Mavericks and Spurs back-to-back. The match-up with the Spurs should be interesting, but not laced with intrigue like tonight's game in Dallas. For one, the Mavs were one of those teams to fall victim to "Linsanity" two weeks ago. (You remember "Linsanity," right? No? The Knicks have this new Asian point guard and stuff. He's pretty good. Doesn't ring a bell? Wow, that was fast). Despite the oversized defense of Shawn Marion and a large helping of turnovers, Lin took it to the visiting Mavs in the fourth quarter and led New York to an astounding victory without Carmelo Anthony. Steve Novak hit a ton of threes and busted out his "discount double check" celebration. The Mavs broke a six-game winning streak. It was absurd, and it's still got to be in the Mavericks' minds. They're probably feeling pissed off and vindictive, and their collapse against the Thunder last night probably didn't help matters. Pissed-off defending champions, y'all. That's quite an opponent. We've already seen one team — the Nets — go wild in their redemption game against Lin and friends, and those were the Nets.
And if that's not enough intrigue for you, here's a thing: Tyson Chandler won a big ol' championship in Dallas last year, and after missing out on the ring ceremony and the trip to the White House this season, he'll finally receive his jewelry tonight. He's pretty worked up about it:
"It's the moment I've been waiting for really since we won,'' Chandler said. "We've done a lot of celebrations, but I'm looking forward to getting the hardware.

"I'm sure it will be a good reception,'' Chandler added. "A lot of my energy was feeding off the fans here. I grew to love them. They grew to love me.''
Tyson was a big, big part of that team, and it should be a rather touching ceremony. Of course, Knick fans are way more concerned with how Chandler's badly injured and heavily wrapped left wrist (injured in the previous Dallas game) holds up. Hell, will his hand even be able to support that massive ring? Tune in at 8:30 p.m. eastern to find out! There's your intrigue! (The game's on both NBA TV and MSG tonight).