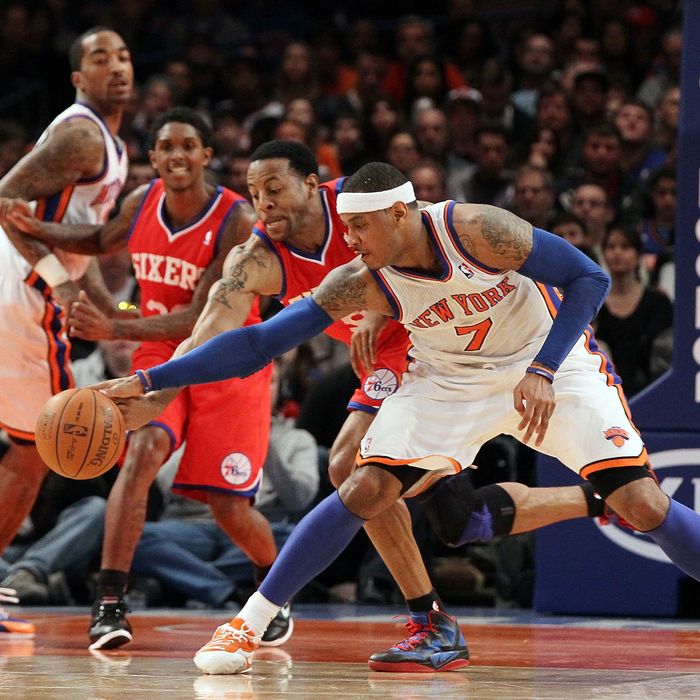 The Knicks and Sixers met ten days ago and it didn't go so well.
There's a pretty solid consensus among NBA-watching human beings that the Chicago Bulls and Miami Heat are the scariest teams in the Eastern Conference and operate on a plane slightly above the rest of the group. If the playoffs started today (relax, they don't), the Knicks would be the eighth seed and would have to face those Bulls in the first round. That'd be less than ideal, so it's in the Knicks' best interest to climb their way into a higher seed. Perhaps the best and quickest way to do that is to win the Atlantic Division, thus guaranteeing a top-four seed. And the best and quickest way to do THAT is to win win lots of basketball games, but especially ones against Philadelphia and Boston, who sit above New York in the Atlantic standings. The Knicks play the 76ers tonight (and the Celtics once more). If they win, it'll be a big step in New York's long-shot campaign for a top seed. If not, the Knicks will be deeper mired in the scuffle for one of those bottom seeds. One game in March certainly doesn't decide anything, but it's as big an opportunity to gain ground as the Knicks will have this season.
Aside from important, tangible things like the playoffs and stuff, the game tonight qualifies as one of those "statement games" people talk about. Much like they were during the "Linsanity" win streak, folks are wary of New York's four straight wins because of the relatively meek opposition. The Pacers are a good team, but the Blazers and Raptors didn't offer much resistance. The Sixers, on the other hand, are the league's most efficient defensive team, sit atop the Atlantic, and humiliated the Knicks just a week and a half ago at the Garden. New York shot 41 percent from the field and Evan Turner and Lou Williams laid waste to the Knick backcourt in what ended up being Mike D'Antoni's last home game before leaving town. Philly's just 1-3 since that win, but they certainly recognize the importance of this contest. They also come in following a night off while the Knicks had a game and a late-night train ride on Tuesday (New York has struggled against fresher opponents this year).
So, yeah, a win tonight would be especially sweet. It'd buoy New York's hopes of sneaking into a top seed and demonstrate by contrast just how well this team has responded to the coaching change. Of course, if they lose, it's no big deal. Just fire the coach and start over.