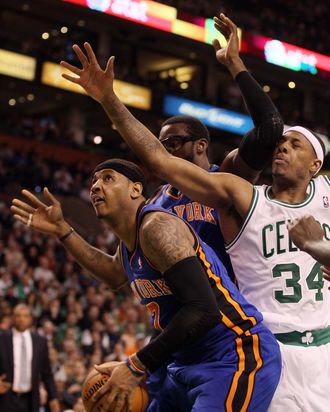 Coach Mike D'Antoni's rotation is an ever-evolving machine with parts that grow, shrink, disappear, and switch roles constantly. As part of our Knicks coverage all season, we'll be tracking each player every Tuesday. Come join us for the Knicks Power Rankings!
1. Carmelo Anthony. (Last week: 2) The Knicks are coming off their second (and final) two-game week in a row and, once again, their performance took time to adapt to each new impediment. This finally united group has already shown that it can be devastating when comfortable, but during the first half against Cleveland and the third quarter in Boston, we saw how long it still takes for them to get comfortable against a feisty, shifting opponent. One thing that separates an experienced, fully coalesced team from a relatively new outfit is a set of collective instincts — the ability to predict one another's behavior and react as a unit when obstacles arise. As Howard Megdal pointed out, the Knicks' group instincts didn't look sharp to begin that second half in Boston, and they'll probably continue to sputter for a bit each time they face a new defensive look.
Even still, there have already been some excellent stretches, and a lot of that can be attributed to Anthony's fairly consistent willingness to get along with everyone so far. The big question looming over Melo's return was how this ball-dominant, flow-busting monster could coexist with Jeremy Lin and the fun bros, but those concerns have quietly faded for the time being. Sure, he's cleared out a few times and, sure, he's attempted the occasional pull-up three, but Melo's mostly been a righteous participant in the team game. He's getting more touches on the weak side of the floor away from the pick-and-roll, concentrating on establishing position instead of creating, and attacking open space instead of beating a defender. That approach has earned Anthony more easy looks at the rim and trips to the foul line, which are always happy conclusions. Melo can still be Melo, too. He scored six consecutive points (one on a slick cut off an inbound, two on ballsy one-on-one moves) in the final two minutes against the Celtics and could have been a hero if not for that dastardly Paul Pierce. Basically: The Knicks have looked incoherent and unresponsive at times, but the chemistry issues aren't nearly as Melo-centric as folks expected them to be. There's plenty of room to improve, but Melo's been leading the team without commandeering it.
2. Tyson Chandler. (Last week: 3) Tyson is and will continue to be in quite a bit of pain. The bone bruise he sustained in his wrist when falling to the floor against Dallas a couple weeks ago has not healed, and has instead been revealed to be a deeper, funkier injury including possible ligament damage. Since only a month or two of constant rest would help matters, Tyson has decided to just keep playing with his wrist encased in a massive padded glove-thing. On Sunday, the wrist and its new carapace visibly interfered with Chandler's play — he fumbled a couple passes and mishandled some attempts at the rim. It remains to be seen how he'll adapt, but for now, Chandler stays high up on the list because his defense remained magnificent. Tyson's marauding D almost single-handedly stifled Cavalier possessions in Wednesday's second half and he played a big role in preventing Rajon Rondo from adding a 30-point total to his remarkable triple-double on Sunday. The wrist thing may dampen Chandler's dexterity, but it shouldn't prevent him from being a defensive terror.
3. Jeremy Lin. (Last week: 1) Just like the previous one, this past week included one game in which Jeremy  masqueraded as a polished veteran and another in which he played more like the inexperienced, experimenting youngster that he is. Lin struggled to defend Kyrie Irving (he's got ample company in that regard) but dissected the Cleveland defense with the ball. When they overplayed him, he deferred to Anthony. When they fell back on their heels, he knifed into the paint. When they allowed him passing lanes, he exploited them. It was a heady, steady (and, uh, bready) nineteen-point, thirteen-assist outing with just a single turnover. On Sunday, it took Lin quite a bit more time to find his stride. A shifty Boston defense put him on edge, and his decision-making faltered. Some of the trouble just looked like learning on the fly, like the discovery that Melo can't run and jump for 40-foot lobs with the same aplomb as, say, Landry Fields. Some of it served to remind us that Lin is so, so young and green and prone to spurts of youthful error — telegraphing passes, leaving his feet too early — against predatory defenses. (Had Walt Frazier not spent the past week chilling in St. Croix, he would have found numerous occasions to utter the phrase "cardinal sin of passing"). Lin settled down as the game progressed, though, and, like Melo, would have earned recognition for a gritty individual five-point run in the fourth quarter if not for that sinister Pierce fellow. It'll be cool to see how Lin fares in his second meeting with teams like Miami and Boston that have found ways to fluster him the first time around.
4. Iman Shumpert. (Last week: Injured) Shump finally got some time to rest what was revealed to be a chronic knee problem, and the break appeared to pay off in his first two games back. Iman played his usual menacing ball defense, made some rather mature plays in transition, and finally showed that he could finish his drives to the rim (and lord, did he finish). Perhaps we need a few more games to be certain that Iman's turned any sort of corner, but he got more burn than Landry Fields in both games this past week and, should any of this keep up, might find himself playing with the first unit down the road. A healthy, composed Shump can be quite the asset on both ends of the floor.
5. Steve Novak. (Last week: 8) This has become slightly ridiculous. It's getting to the point where Knick fans expect Novak to effortlessly engineer a nine-point run every time he checks into a game. The guy has been spraying three-pointers at a historic rate and, amazingly, hasn't wavered much in his accuracy. Nine of fifteen three-point attempts dropped this week! Steve's only gotten DEADLIER.
6. Amar'e Stoudemire. (Last week: 6) New York's searing gaze has turned away from Anthony and firmly toward Stoudemire. Amar'e's performance against Cleveland and Boston kept form with the previous week's — a slower, feebler attack than the customary Stoudemire product. Every once in a while there's an athletic inside move or a crisp elbow jumper that makes you go "YES, THAT. KEEP DOING THAT. THAT'S WHAT YOU DO," but he hasn't been able to string together a convincing run of success. Since we Knicks fans are impatient and negligent of context, there will continue to be murmurs that he's washed up and demands that he be traded (which are so, so sickening). In the meantime, the Knicks must either find ways to boost Amar'e's game and hope for recovery or find ways to manage his minutes and mask his present struggles.
7. Baron Davis. (Last week: 7) Baron's performance sort of paralleled Lin's: he sparkled against Cleveland, then got over-ambitious and sloppy in Boston. Even in that second game, though, Baron created quite a bit for the second unit (fifteen assists in 36 minutes this week) and conjured easy looks for his teammates. D'Antoni maintains that Lin will continue to start and finish games, but that doesn't mean an increasingly confident Davis can't relieve Jeremy of some more minutes.
8. Jared Jeffries. (Last week: 9) Jared did not miss a shot this past week. He was a perfect 5-5 from the field! Jared also played his usual solid defense as Chandler's reserve, but that scoring is what stands out. Perfection! Jared Jeffries!
9. Landry Fields. (Last week: 4) It wasn't the Landriest of weeks. Fields reverted to looking shaky and aggressive at the wrong times, producing very little offense (some nice passes, though), and rekindling concerns that he doesn't fit well alongside Anthony. If trends hold, that could be further motivation to move Fields into the second unit. He'll stay the starter for now, but keep an eye on which Knick two-guard joins Lin, Melo, and company later in games.
10. J.R. Smith. (Last week: 5) With such an improved bench, a double-digit ranking isn't as shameful as it used to be. J.R. just went cold from outside (0-7) this past week, failing to create much in the way of offense. He kept up his surprisingly rugged defense, though, and finished some preposterous plays in the air. It almost seems like Smith is the reason the Knick point guards — Davis in particular — have become prone to throwing ill-advised lobs. J.R. can catch and convert passes other guys couldn't reach if they were given a trampoline and a butterfly net.
11. Josh Harrellson. (Last week: Injured) Harrellson is by far the most likely of last week's DNP bros to earn some minutes down the road, but D'Antoni just hasn't found time for him yet. It's a shame, because we're all very curious to see if Jorts still has the same rebounding, defense, and surprisingly effective outside shot to offer that he did before the wrist injury. With Chandler's wrist now hurting, perhaps Josh will get to spin in the near future.
12. Mike Bibby. (Last week: 10) Bibby's pretty much done getting minutes, but have you checked out the "Tattoos" section of his personal website? Encyclopedic!
13. Toney Douglas. (Last week: 11) Until Douglas's game and status are resurrected, we will turn to Toneygrams — anagrams of his name. This week's is "Sad eulogy … NOT." I take this as a hopeful message. Do not be fooled into thinking Douglas warrants some sort of sad eulogy! He will be back!!!
Injured: Bill Walker
Assigned to the D-League, but probably back soon: Jerome Jordan