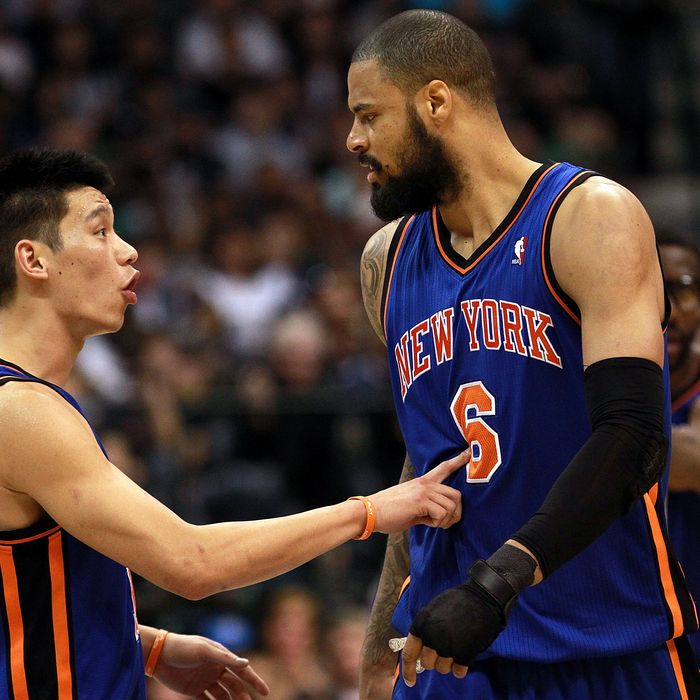 Coach Mike D'Antoni's rotation is an ever-evolving machine with parts that grow, shrink, disappear, and switch roles constantly. As part of our Knicks coverage all season, we'll be tracking each player every Tuesday. Come join us for the Knicks Power Rankings!
1. Tyson Chandler. (Last week: 2) After a quiet, practice-filled post-All-Star week, the Knicks have played five games since we last spoke and lost every one of 'em. New York couldn't do two things at once — when they shot well, they couldn't defend; when they defended, they couldn't find the net. We spoke last week of "adaptation," and the Knicks have made little progress on that front. The team rarely showed signs of coalescence, instead operating as a loose constellation of minimally effective pieces. Pretty much everyone sucked this week, and the resulting slide dropped the Knicks out of playoff seeding just weeks after that seemed like an impossibility.
Chandler regains a top spot mostly because he missed two games. While Chandler rested his sore hamstring, the Knicks were a defensive non-entity. The Tyson-sized hole in the interior defense allowed Tony Parker unlimited visits to the basket on Wednesday, then let guys like Ersan Ilyasova and Larry Sanders rule the paint on Friday. New York still had problems when he returned — Philadelphia torched them in transition and on the perimeter and Chicago hoarded offensive rebounds — but the basket felt so much safer with Tyson around. New York's been an average-to-good defensive team this season (though slipping in the last few weeks), but they looked like an idle-to-ineffective defensive team without their big man. Chandler demonstrated his power by temporarily withdrawing it.
2. Amar'e Stoudemire. (Last week: 6) Save for a meek outing against the Sixers, Stoudemire quietly returned to a more Amar'e-like offensive output this past week. It would be a stretch to call it a "return to form" — if it was that, I'd have YouTube links to share — but Stoudemire found ways to score after weeks of genuine speculation that he'd completely lost the ability to do that. We saw him put the ball on the floor and make patient, graceful drives to the basket. We saw him finish above the rim. We even saw him find some touch from the perimeter, particularly in a hot-shooting third quarter on Monday night in Chicago. If Stoudemire is truly starting to get his feel back, then he ought to be featured on offense more often, no? Amar'e is such a hapless, gullible defender that he must be quite productive on the other end to warrant playing time. Throughout his career, the offense has more than compensated for the spotty defense. This season, that hasn't been the case, but he's been much more efficient of late. Now it's probably wise to keep the ball coming Stoudemire's way so he can prove his worth out there.
3. Jeremy Lin. (Last week: 3) Lin has been solid and productive, but nowhere near the wizardly creator that he was during that impossible two-week stretch of "Linsanity." Perhaps because teams are defending him better and perhaps because he's not quite as in touch with his current teammates, Lin's been picking up his dribble, wasting passing lanes, and forcing difficult shots far too often. At times he does too little, at others he tries to do too much, but the upshot is that he looks less and less like a dynamic pick-and-roll threat and more like a promising but mistake-prone young point guard. That's a wonderful thing for him to be, but the Knicks worked a lot better when he was making miracles with his bare hands. Obviously.
4. Carmelo Anthony. (Last week: 1) 'Twas an eventful week for Melo. On the court, he had spurts of excellence but — despite reverting to a more isolated, on-ball plan of attack — mostly struggled to finish plays. Melo being Melo and this being New York, the on-court struggles were merely the lede of the story. The main things folks noticed came between plays or off the court entirely. In just one week, Melo drew ire for smiling too much, tossing away a blind inbound pass, then momentarily shunning reporters after a 2-12 night in Dallas, ignoring his teammates yet snapping when they ignored him, failing to grasp exactly why he'd been benched against the Sixers, apparently objecting to the J.R. Smith signing and, most recently, having some beef with Mike D'Antoni. All of the things are bad right now, and the list of complaints is far longer than a line in the box score. That's where it all starts, though. All it would take is some solid two-way performance and a few wins for the extracurricular stuff to fade into the back of our minds.
5. Landry Fields. (Last week: 9) Despite being briefly taken out of the starting lineup, Fields had a decent enough week. He's still prone to the occasional inexplicable spasm of self-serving offense — you can tell he's going to turn the ball over or miss an off-balance runner almost before he does it — but has settled into a more natural back-door cutting, transition-finishing role since a very bad couple of games last week. Landry's side pick-and-roll with Amar'e or Chandler remains a fairly effective second option when the Knicks can find it.
6. Steve Novak. (Last week: 5) Steve keeps hitting threes — he was 11-23 on the week — and that singular, tangible skill has made him the darling of the Garden crowd (I say this as someone who sat through a gentleman in section 308 screeching "PUT NOVAK IN!" throughout Sunday's loss to the Sixers). Novak, despite making a pretty concerted effort to help in other ways, just doesn't have much to offer as a defender or rebounder. He does that one thing very, very well, though. Oh, and we got to learn from his parents about how he became so good at that one thing this week when the team was visiting his home state of Wisconsin.
7. Baron Davis. (Last week: 7) Baron sure does love to shoot jumpers (folks have accurately pointed out that Davis looks thrilled to have the ball in his hands with clock winding down and no choice but to pull a 25-footer)! On many occasions, Baron's shown an incredibly useful ability to wind his way into the paint, draw help, and shovel the ball away to an open teammate at the last second. On others, he's got eyes for the rim and nothing else. Defenses prefer the latter.
8. Iman Shumpert. (Last week: 4) Shump caught the short end of some rotational fiddling by D'Antoni this week. He was shoved into the starting lineup and given 29 minutes of run against the Spurs, then benched again and spun for just 5 minutes in Milwaukee two days later. Shump never really seemed in rhythm all week, and didn't end up contributing much on either end.
9. Josh Harrellson. (Last week: 11) Same deal for Jorts, who finally got some minutes in Dallas, started the very next night when Chandler was out, was a DNP just two games later against the Sixers, then rejoined the rotation in Chicago. Harrellson hasn't established a concrete role on offense, but it sure looked like the Knicks could have used his defense, rebounding, and general willingness to grapple with folks this past week, especially in Chicago.
10. J.R. Smith. (Last week: 10) This time around, being ranked tenth isn't a product of a lot of other guys playing well. Smith had a miserable week. Somebody finally noticed and objected to the ridiculous stuff he posts on Twitter, which cost him $25,000. Meanwhile, J.R. himself cost the Knicks quite a few possessions. Save for the second half in San Antonio, Smith simply could not find the basket, and often didn't even get the chance to find it because of unforced errors. When Smith first joined the team, we were thrilled with his ball-handling and passing, but recently, the guy hasn't been able to dribble in a straight line.
11. Jerome Jordan. (Last week: An Erie Bayhawk) Jerome is back in New York after a second brief stint in Erie, but boy did he make an impression during that stint. Seriously, read that. It'll cut through all the sorrow surrounding the rest of this team. Jerome is still so pure and lovable. I almost hope Jordan doesn't get minutes until the team is playing well again, just so he can remain untainted.
12. Mike Bibby. (Last week: 12) Last week, we highlighted the "Tattoos" section of Mike's personal website. This week, you might like to check out a gallery of every sneaker he's ever worn.
13. Toney Douglas. (Last week: 13) This week's Toneygram: "Sadly gone out." Indeed.
Injured: Jared Jeffries, Bill Walker