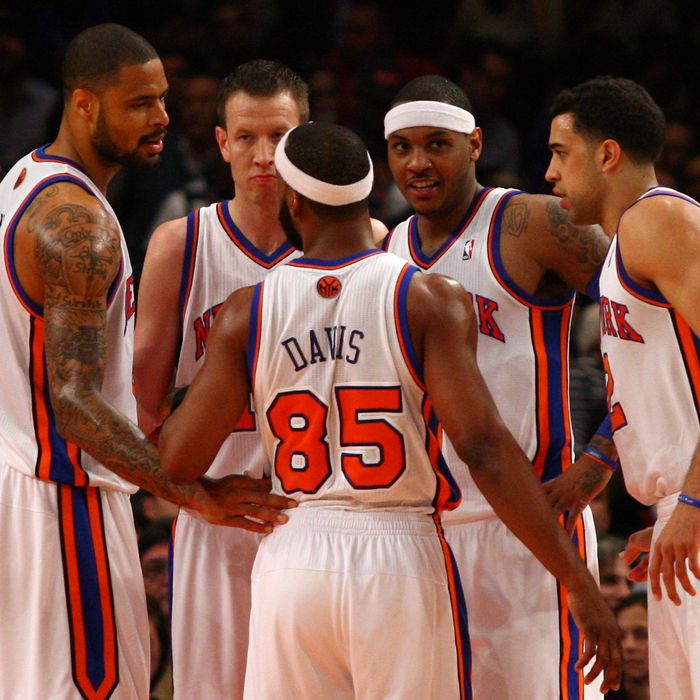 The Knicks played some ugly games, but went 4-1 this past week.
Coach Mike D'Antoni's Woodson's rotation is an ever-evolving machine with parts that grow, shrink, disappear, and switch roles constantly. As part of our Knicks coverage all season, we'll be tracking each player every Tuesday. Come join us for the Knicks Power Rankings!
1. Tyson Chandler. (Last week: 1) Week two under Mike Woodson saw the Knicks lose a step or two but come out on top anyway. They went 4-1 over that span, the highlights of which were a pair of hideous, poor-shooting, low-scoring wins over Philadelphia and Milwaukee, two neighbors in the Eastern Conference standings. Chandler actually had some pretty quiet outings this week — he was benched in the fourth quarter on Wednesday against a small Sixer lineup and was silent like everybody else during New York's lone defeat in Toronto — but maintains his top spot for the usual fine defensive work and effort on the glass. Chandler defended the rather difficult Andrea Bargnani quite well in one of their two meetings and gobbled up offensive rebounds against the Pistons and Bucks. And though he didn't have his most efficient offensive week, Chandler's still on pace to finish the season with a field-goal percentage rivaled only by the likes of Artis Gilmore and Wilt Chamberlain. The man is a monster. A monolith. A monarch. A monadnock. He's good at basketball.
2. Amar'e Stoudemire. (Last week: 4) This one stings a bit, because as I write this, Stoudemire is in Miami getting a second opinion on the bulging disk in his back. We're still not sure exactly how much time Amar'e will miss, but we do know that, once again, Stoudemire has been taken off the floor right when he was starting to roll. Not only was he starting to score consistently — 19 points per game on 59 percent shooting in four games this week — but the solid positional defense we talked about last week was holding up to some extent. Though there were some errors, Stoudemire mostly stuck to his assignments, boxed out, and offered his services as help defender when called upon this week. The highlight of it all was the second half of Wednesday's game, in which he played a big part in holding Elton Brand scoreless after Brand had dropped 12 points in the first half. Plays like this one (in which Amar'e got beat down the floor but more than made up for it) made damn sure that Brand wouldn't get on the board again.
So, Amar'e will have to miss some time because of a back injury right when he was starting to look fully recovered from a previous back injury. That turn of events is just a blue ball wrapped in a bummer dipped in frustration sauce. We know from experience that Amar'e can recover from injury, but it's hard not to feel disappointed about this most recent setback and worried about how long the recovery might take this time around.
3. Carmelo Anthony. (Last week: 2) We talked last week about Anthony's somewhat vexing semi-admission that he hadn't been trying his hardest under Mike D'Antoni, but we're past that now. The good news is that Melo has continued to thrive on the defensive end. He attacked passing lanes wonderfully and came up with three steals against the Raptors, and played solid individual defense against Andre Iguodala and Tayshaun Prince. Melo rotated, closed out, poached passes, and, as always, feasted off the glass — effort stuff. Those contributions are wonderful and necessary because Anthony still hasn't found his scoring touch. He shot poorly all week and didn't crack 20 points (20 points! Carmelo Anthony!) until Monday night against the Bucks. That much-needed 28-point offering saw Melo pick up where he'd left off in a decent second half against the Pistons — posting up narrower defenders to get bully buckets and foul calls in the paint. That kind of approach runs the risk of slowing the Knicks offense considerably, but it's also looked to be an effective way to get Melo involved while his shot is off. Meanwhile, Melo's recently healed right groin decided to join in the fun and get aggravated last night. We'll see whether Anthony, too, will have to miss some time. Injuries are the worst.
4. Jeremy Lin. (Last week: 3) It wasn't Lin's best week. He put up some rough shooting numbers against the Sixers and Raptors and another big turnover game against Detroit before hurting his knee and having to miss the Milwaukee game. He got hot from outside in the first Toronto game, though, and shook off his own poor shooting to key New York's fourth quarter stand in Philadelphia. (My favorite play from that spurt: This wicked crossover and gem of a sidestep finish past Jrue Holiday and Elton Brand. Take a few looks.) It was an up-and-down week that ended with Jeremy in some pain. Hopefully that pain won't last too long, because Baron Davis as the starting point guard is a dicey proposition.
5. Iman Shumpert. (Last week: 8) This is surprising for a 4-1 week in which the team suffered some injuries, but none of New York's role players really stood out. Shumpert, for his part, didn't get to the line or score quite like he did the week before, but he was pretty solid in each of the five games. His on-ball defense was active and disruptive as usual — Lou Williams, Jerryd Bayless, and Monta Ellis each got pretty soundly Shumped. Iman was also the lone Knick to shoot well from outside against the Bucks, and he sank a massively important three early in the fourth quarter of that game to nip a Milwaukee run that had cut New York's lead to just four.
6. J.R. Smith. (Last week: 6) It feels weird to rank a guy this high after he shot 34 percent from the field on the week, but Smith's shooting numbers belie what was actually a pretty useful run of games. He shot poorly and committed some pretty baffling turnovers, but contributed in lots of little ways that folks wouldn't typically expect from J.R. Smith, notorious space cadet and heaver. Smith's week was dotted with instrumental hustle plays — deflections, drawn charges, tip-ins, and rebounds in traffic — that arrived with uncanny timing. For instance, a series of little defensive plays buoyed New York in the first quarter of the first Toronto game, and a very impressive tip-out on the offensive glass in the third quarter against the Bucks led to an Anthony layup that broke a 64-64 tie and established a lead that New York would hold for the rest of the game. Statistically speaking, Smith had a pretty rough week, but he was a principal character in several little turning points that led to Knick wins. Oh, and I didn't know whose section to put this in, but this Smith-Shumpert-Smith double alley-oop was pretty excellent.
7. Steve Novak. (Last week: 5) Teams are starting to get really smart about bum-rushing Novak at the three-point line. They know full well that he's not going to put the ball on the floor, and even if he does, he's not going to stray far. Steve's percentages still look unsinkable, but he's having a much harder time finding the time and space to launch attempts.
8. Landry Fields. (Last week: 10) Fields continued to have trouble getting in an offensive rhythm, perhaps because his minutes remained way down from where they were pre-Woodson. He seems to get cut the least slack of any Knick these days, as he's been yanked from the lineup a couple of times after poor defensive coverage. Fields contributed, though. We're getting used to a couple of crisp pick-and-rolls between he and Chandler each night, and Landry's also good for some rebounding and savvy defensive plays here and there. However, despite keeping Fields as the starter, Woodson appears to favor Smith to play more minutes and finish games.
9. Baron Davis. (Last week: 9) Davis's game has been pretty hyperbolic, and it stayed that way this week. His loose, jiggly style of play sometimes helps him rope in defenders and dish off passes to wide open teammates at the very last second. Other times, it leads to some of the most baffling shots and turnovers you've ever seen. Seriously, there have been times at which I assumed that somebody blew a whistle and I just didn't hear it, because Davis simply stopped playing and all but drop-kicked the ball into the stands. That kind of slovenly performance can suffice in limited minutes, but Baron was pretty frightening to watch as Lin's understudy against the Bucks, and that's compared to a guy who's notoriously turnover-prone.
10. Josh Harrellson. (Last week: 12) With Jared Jeffries (and eventually Amar'e Stoudemire) out, Harrellson saw more minutes this past week. He looked a little bit nervous, sort of like he did in the beginning of the year, and made some mistakes, but didn't play badly. None of that is important, though. What is important is that Jorts now has a faint but undeniable mustache creepin' on his upper lip. The mythical Jortstache was the aim of a Facebook campaign while Harrellson was at Kentucky. Now it is among us, and it's just as shady-looking as you'd hope.
11. Mike Bibby. (Last week: 11) There was some fear when Woodson became coach that he'd hand a lot of minutes over to his old point guard from Atlanta, but Bibby has pretty much played only when the Knicks had to dig deep into the bench. In fact, it wouldn't be surprising to see Bibby lose even those few minutes to Toney Douglas going forward.
12. Jerome Jordan. (Last week: 13) Jerome took a shot and he made it. Everybody wins (except for the Knicks in that game)!
13. Toney Douglas. (Last week: 14) This week's Toneygram: "Yodel Nougats." That one doesn't make much sense, but it sounds kind of like a dessert that Toney might enjoy.
Injured: Jared Jeffries (though he did play a few minutes before hurting his knee again), Bill Walker